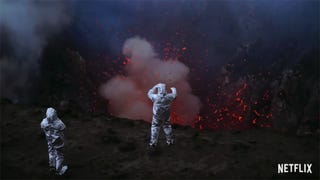 Check out the trailer to Werner Herzog's newest documentary Into the Inferno for everything you would expect: beautifully filmed, panoramic shots of far-away places you'll probably never visit, non-stop narration oscillating between cynicism and soaring existentialism and even ancient Norse doomsday poetry.
Whenever Werner Herzog says something, you should listen. Don't just listen because the man speaks pure poetry with an alluring German accent. Listen because he's usually smart, if a little grumpy. Case in point: He thinks Twitter is stupid.
You've already marveled at Fantastic Planet, the demented 1973 French film about giant blue people holding tiny humans hostage. But have you seen Les Escargots, the 1965 giant snail movie by the same creator?