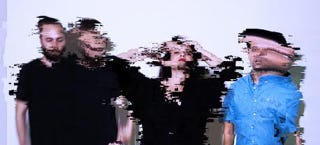 There are certain sounds that just work when you're driving out of the madness of the city under the cover of night to a chilled-out place in the wilderness where the stars outnumber—and outshine—the streetlights. Next time you're on passenger-seat DJ duty, I recommend queueing up Superhumanoids and enjoying the ride.
The LA-based band isn't totally new, but they are new to me. A pal of mine was manning the playlist on a recent road trip and amongst all the indie-pop-adjacent tunes that popped up—and they were all indie-pop-adjacent tunes—every so often something would make my ears go all kinds of "ooooh" and whaddya know: Superhumanoids. Superhumanoids. Superhumanoids.
It's a little dreamy, a little electro, a little woo-woo, a little wah-wah (with a dash of French Kicks, maybe?), and all kinds of close your eyes and sway or open them up and stare out the window at the dark world whooshing by. Bonus: They're going on tour with none other than Erasure. A little respect, people. That is a good match-up.
Enjoy this cool hip group and drop any other similar stuff in the comments; I could use some more new fave tunes and albums produced in this decade. [Superhumanoids]
---
Welcome to Soundtrack, what Gizmodo's staff is listening to every night.