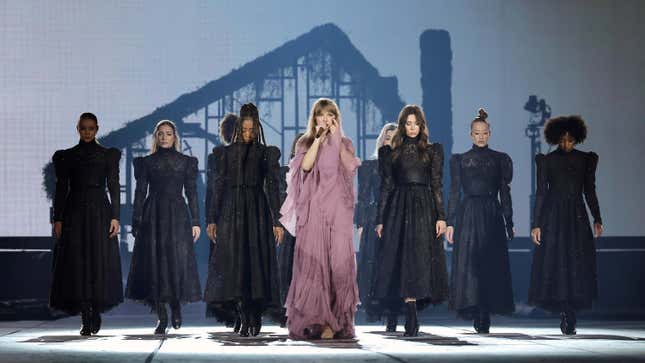 As SAG-AFTRA reaches the end of its second month on strike, the union may have found an unlikely hero in the face of Taylor Swift. The singer-songwriter has reportedly met the union's demands over the release of her concert film for The Eras Tour, which will hit theaters next month.
What to Watch For: Taylor Swift's "Midnights" What to Watch For: Taylor Swift's "Midnights" vinyl sales
In an age of major studios pushing back blockbuster films as the strikes in Hollywood rage on, Swift's announcement of The Eras Tour concert film certainly raised eyebrows. In a middle finger to the Alliance of Motion Picture and Television Producers (AMPTP), Swift boldly side-stepped major studios and approached AMC itself to distribute the movie to theaters across North America. She also approached SAG-AFTRA—of which Swift is a member—in order to meet its demands and struck an interim deal with the union to release the film.
"That concert movie is covered by a SAG-AFTRA interim agreement. She came to us and said she wanted to do this, but only if she could do it the right way under a union contract," chief negotiator of SAG-AFTRA Duncan Crabtree-Ireland told IndieWire at Toronto International Film Festival. "She fulfilled all the same criteria as anybody else."
SAG-AFTRA did not immediately return Gizmodo's request for comments on what demands were specifically related to Swift's concert film.
Swift's deal with SAG-AFTRA is obviously a huge boost to union morale as strikes continue, but it is also a new source of pressure on the AMPTP. The Eras Tour famously broke Ticketmaster and plenty of records since opening night this past March, and is set to gross $2.2 billion on the North American leg alone. As a result, the concert film raked in $26 million in tickets on the first day of pre-sale. Swift's decision to forgo the AMPTP altogether shows how easy it can be for certain musicians and directors to cut out the middle-man and deliver their product directly to distributors themselves.
SAG-AFTRA began striking on July 14 after the union's demands—most notably over the use of AI and face-scanning technology in productions—were not met by the AMPTP. The union's strike coincides with the concurrent WGA strike, which has been ongoing since May 2, with the writers' union also demanding restrictions on AI usage and increased residuals from streaming services.