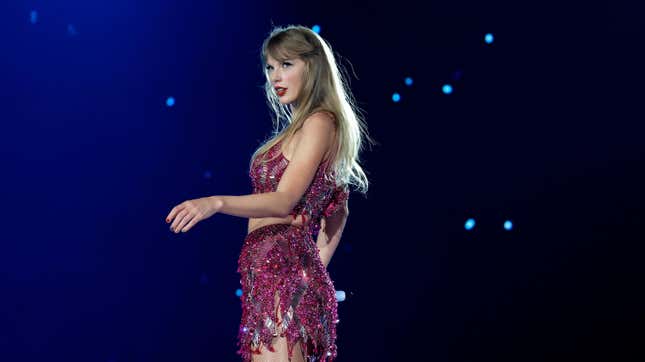 Taylor Swift's The Eras Tour is still making headlines, for better or for worse, but this past weekend, it wasn't fans shaking with excitement, it was the Earth. A Washington University geologist recently revealed that Swift's Seattle stop was such a rocking time, that the concerts showed up on a seismometer.
Time to Tackle the Taylor Swift Ticketmaster Turmoil | TechModo
Jackie Caplan-Auerbach from Western Washington University shared data in the Pacific Northwest Earthquake Discussion Group from a seismometer near Lumen Field, where Swift performed back-to-back shows on July 22 and July 23. The data reveals seismic activity beginning around the start of the concert at 6:30 p.m. local time those nights—Swift's second show at Lumen Field was delayed about half an hour—with waveforms corresponding to the same relative points in the show between nights. Caplan-Auerbach told The Seattle Times that Swift's concert was the equivalent of a 2.3 magnitude earthquake at its most violent. While weak enough not to cause any damage, the event is an impressive feat.
"You can see that the waveforms are really, really similar after [6:30], although they are offset in time. This would be consistent with someone playing the same set, but delayed," Caplan-Auerbach wrote in her Facebook post. "Note that I also looked at the same time window from a week previous and it looks completely different."
Caplan-Auerbach went on to compare Swift Quake to a similar instance of seismic that occurred in the same stadium in 2011: The Beast Quake. Beast Quake saw an isolated earthquake generated by fan furor after Seattle Seahawks running back Marshawn Lynch scored a touchdown in a nail-biting play during a game against the New Orleans Saints at the same stadium Swift would perform at 12 years later. Beast Quake was a rumbling that was approximately a 2.0 magnitude earthquake, and when Caplan-Auerbach placed the data side-by-side, Swift and her fans made more noise throughout the night.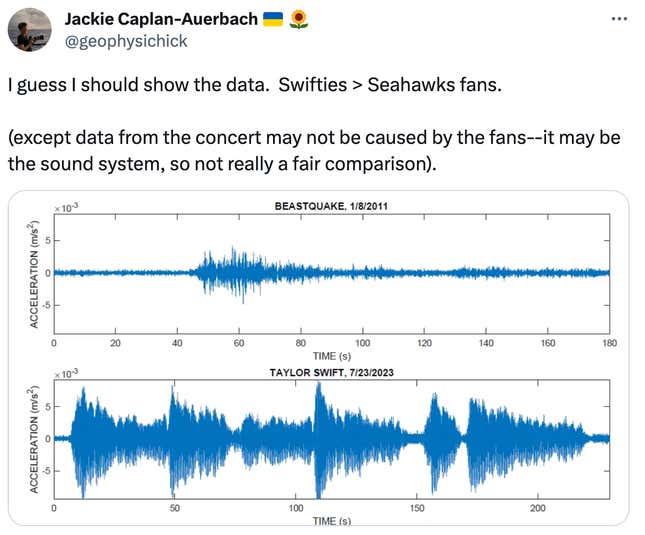 Leave it to Swifties to literally rattle the ground, much the same way those fans rattled Live Nation Ticketmaster last year. After the ticketing giant couldn't handle the demand for The Eras Tour, and canceled the general sale after over-enrolling customers in the pre-sale, Swifties shone a spotlight on the company's alleged monopoly on the live entertainment industry, with several politicians and the Department of Justice calling for an investigation. In a subsequent January 2023 hearing, cheekily titled "That's the Ticket: Promoting Competition and Protecting Consumers in Live Entertainment," Live Nation Entertainment President and CFO Joe Berchtold testified that the company has done nothing but improve the artist-fan relationship since Live Nation and Ticketmaster merged in 2010, and that Ticketmaster wasn't to blame for The Eras Tour disaster, it was just those damn bots.