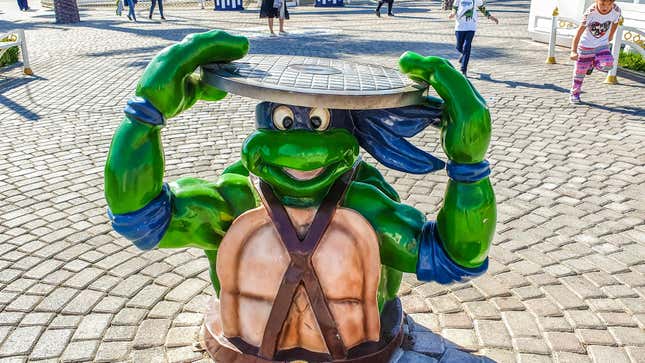 A small city in Massachusetts, one which has a strong connection to the classic comic series Teenage Mutant Ninja Turtles, is paying homage to the four tubular turtles on, what else, but its manhole covers. 
Turtle Power with Melissa Navia | First Fandoms
As reported by local station WCVB5, the City of Northampton in western Massachusetts gave the local Vibrance Committee $20,000 to create four manhole covers. The Northampton Vibrancy Project was created to revitalize the downtown area after the pandemic ravaged small businesses. 
That money is being taken out of the American Rescue Plan funds, and the Vibrance Committee grant is part of the town's plan to disburse $4 million in funds to local groups. The manhole covers will reportedly sit along the city's main street. The Boston Globe noted that Northampton is already known for its art scene, and that the manhole covers are already listed on city's ARPA grant rewards document. 
The document describes the grant as: "Funding to invigorate downtown arts by integrating public art tribute to the Northampton born Teenage Mutant Ninja Turtles into Main St redesign with 4 custom manhole covers." 
While the grant hasn't described what the four covers will look like, it would only make sense for the city to feature each individual turtle. Each cover could be styled after the four post-pubescent pizza enthusiasts, namely Leonardo, Donatello, Michelangelo, and Raphael. The city has until June 2026 to spend the funds, according to the Globe. 
This isn't just some random act of fancy by some local city official full of '90s nostalgia. Mirage Studios, which was the original creators of the TMNT comic, was located in the city after the team spent a few years in New Hampshire and Connecticut. Mirage Studios was made up of Northampton native Peter Laird who collaborated with famed writer/artist Kevin Eastman on the original black and white run from the 1980s.