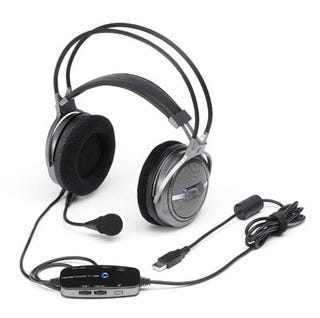 The Terratec Headset Master is an interesting, $78 solution to surround sound gaming that not only ignores the need for speakers, but for that completely inexpensive-to-buy-awesome-quality soundcard that you've been cheaply admiring from afar.
The headset connects to your PC via USB, you install some drivers/software and you are good to go. In a recent review,
the sound quality was deemed decent for games, but lacking proper channels when listening to movies. Of course, the trade off of yelling at the movies through built-in mic was seen as a reasonable compromise. All-in-all, the Headset Master was considered a good value.
If Microsoft/Sony would only release a surround headset for the 360/PS3, I'd buy it in a heartbeat. Especially if games like Gears of War moved player voices to their actual in-game locations. Maybe for the next-next gen...