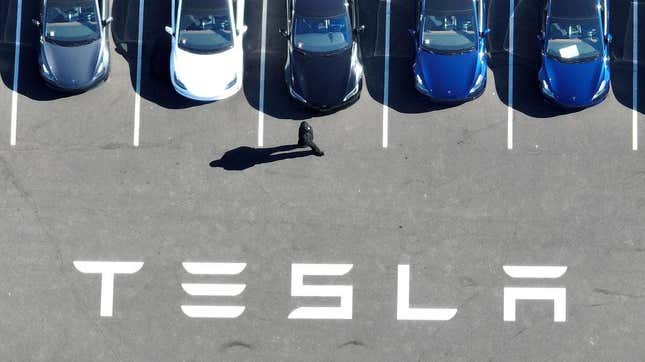 An ex-Tesla factory worker took the stand following a lawsuit he filed against the company for racial discrimination from mid-2015 through 2016. Owen Diaz, a Black former escalator worker at the Tesla factory in Fremont, California claims he was subjected to racially discriminatory comments and actions from his coworkers over the nine months he worked at the company's factory.
Tesla Investors Not Happy With Mr. Tweet's Tweets
Diaz took the stand on Wednesday and according to Reuters became emotional as he testified that the hostile working environment made him question his worth, and said quote, "I was living from paycheck to paycheck and I needed the job."
Diaz first filed the complaint against Tesla in 2017, claiming he was regularly addressed in ways "reminiscent of the way slave owners referred to their slaves," the lawsuit says.
Valerie Capers Workman, Tesla's former vice president of people, issued a statement in October 2021, saying that Diaz was a contract worker for Citistaff, not a Tesla employee. She also said while witnesses testified that they heard the use of "racial slurs (including the n-word)," they were used by workers in a "friendly" manner and claimed two contractors were fired and one was suspended in response to Diaz's racial discrimination claims. 
The trial began in San Francisco federal court on Monday and Diaz's lawyer told the jury Black workers were treated as second-class citizens at the Tesla factory. "You will conclude that Tesla's conduct ... is a conscious decision not to protect African American employees inside their workplace," the lawyer, Bernard Alexander, told the jury, Reuters reported.
Diaz's trial gets underway as Tesla faces a separate class-action lawsuit in California from former employees who similarly claim they were racially discriminated against at the Fremont factory. The lawsuit was filed by the state's Department of Fair Employment and Housing, claiming the factory is racially segregated and the treatment of Black employees is so intolerable that many were forced to quit.
Tesla said in a statement last year that almost 50 individuals made claims to DFEH of racial discrimination at the Tesla factory, but said: "on every single occasion … it did not find misconduct against Tesla." The company filed a counter-lawsuit against the DFEH in September, calling the department's complaint "misguided."
"Attacking a company like Tesla that has done so much good for California should not be the overriding aim of a state agency with prosecutorial authority," Tesla said in the statement. "The interests of workers and fundamental fairness must come first."
The company's lawyer, Alex Spiro, told the jury on Monday, that while racial discrimination conducted at the Fremont factory was indefensible, he said the claims were exaggerated and questioned whether Diaz had suffered psychological damage, Reuters reported. "There is almost no evidence of anything you just heard other than a lawyer saying it happened eight years later," Spiro said.
A jury awarded Diaz $137 million in damages during a 2021 trial, making it one of the largest in U.S. history for workplace discrimination cases. However, last year, a judge significantly reduced the award to $15 million and Diaz's lawyers rejected the reduced amount, instead opting for a new trial.
Diaz's trial is expected to last five days.