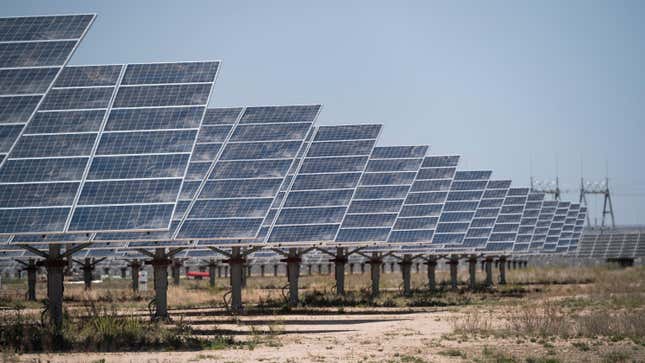 A new study from Climate Central shows that the U.S. saw impressive overall growth in wind and solar energy capacity in 2022. Red states, but especially Texas, led the country in clean energy production last year.
This Summer's Hottest Umbrella
The researchers analyzed data from WeatherPower, the organization's solar and wind forecasting tool, and data from the U.S. Energy Information Administration to learn about clean energy generation in 2022 for the 48 contiguous states and the District of Columbia.
Red states dominated the list of top solar energy producers in 2022:
California generated 58,664,084 megawatt-hours from solar energy last year.
Texas came in second, generating 22,863,146 MWh.
Florida generated 13,595,456 MWh.
North Carolina generated 11,532,539 MWh.
Arizona generated 10,408,801 MWh.
Red states also led in wind energy production in 2022:
Texas came in first, creating 129,578,478 MWh from wind in 2022.
Iowa came in second, generating 48,442,412 MWh from wind energy.
Oklahoma generated 45,757,509 MWh.
Kansas produced 34,239,591 MWh.
Illinois generated 23,819,521 MWh.
The nationwide expansion is not very surprising—the Biden administration has made billions of dollars available to invest in renewable energy through last year's major climate bill. The U.S. aims to reach net zero emissions by 2050, and the recent efforts to expand fossil fuel-free energy are a major step in that direction. "We are moving closer to the goals we need to reach in order to hit net zero," Jennifer Brady, a senior data analyst at Climate Central, told the Guardian. "We have a free natural resource in the form of weather that can be captured to generate power."

G/O Media may get a commission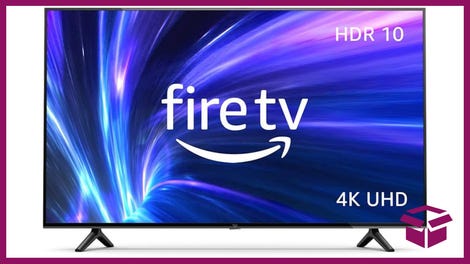 42% Off
Amazon Fire TV 50" 4K Smart TV
The country generated 238 gigawatts of solar and wind energy in 2022—a huge jump from 2021, when it only produced 13 GW. "The electricity generated from solar and wind in 2022 is enough to power the equivalent of 64 million average American households," according to the report.
Experts told the Guardian that though this is great for Texas and for lowering the nation's emission's overall, states that are expanding renewables need to build more transmission lines to handle the increased energy production and to supply communities with clean energy. "Currently the grid cannot handle all the renewable energy that already exists in Texas, and if we do not have transmission lines to support the renewable energy that feeds to the grid then it's useless," Irfan Khan, assistant professor of electrical and computer engineering at Texas A&M, told the Guardian.