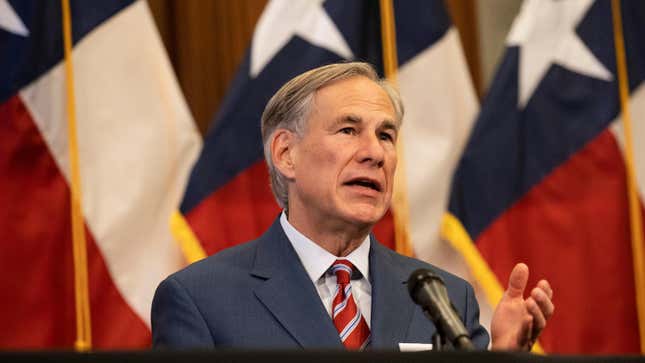 The Lone Star State is charging ahead with a TikTok ban. On Monday, Governor Greg Abbott unveiled a new statewide model security plan to prohibit the app from government issued devices and networks in order to address potential "vulnerabilities," presented by its use. Predictably, the Republican governor also used the opportunity to take a swipe at China.
"The security risks associated with the use of TikTok on devices used to conduct the important business of our state must not be underestimated or ignored," Abbott said. "Owned by a Chinese company that employs Chinese Communist Party members, TikTok harvests significant amounts of data from a user's device, including details about a user's internet activity."
Abbott's model plan will prohibit TikTok from all state-issued cell phones, laptops, desktops, tablets, and other devices able to connect to the internet. The plan goes a step further though, and prevents government employees from conducting any type of state-business on outside devices with TikTok or other prohibited software installed on them. All state state agencies will need to implement their own policies to enforce the ban by February 15, 2023.
TikTok isn't the only app or software developer targeted by the directive. Others include WeChat, Alipay, ByteDance, Tencent Holdings, and Russian owned Kaspersky, though all of those are far less popular in the U.S. than TikTok. The ban also applies to mostly Chinese hardware makers including Huawei, ZTE, and surveillance camera maker Hikvision.
"It is critical that state agencies and employees are protected from the vulnerabilities presented by the use of this app and other prohibited technologies as they work on behalf of their fellow Texans," Abbott added.
The new plan follows a December directive issued by the governor prohibiting state employees from downloading or using TikTok. That directive manifested itself most clearly at public state universities like the University of Texas, which quickly moved to create network filters and block access to the app. TikTok pushed back against the university-level bans at times, saying they could have "unintended consequences" that could impact schools' ability to share information and recruit students.
"We're sorry to see the unintended consequences of these rushed TikTok bans—policies that will do nothing to advance cybersecurity—beginning to impact universities' ability to share information, recruit students, and build communities around athletic teams, student groups, campus publications, and more," A TikTok spokesperson told Gizmodo. The spokesperson did not comment directly on Abbott's new security plan.
TikTok bans pick up steam on state and federal level
When the rules are implemented, Texas will join a majority of U.S. states that have moved, at least in part, to ban the social app from government devices. That quickly growing list currently includes Florida, South Dakota, Oklahoma, Tennessee, and 24 other mostly Republican learning states according to analysis from Business Insider.
Simultaneously, there's growing appetite to expand those bans on the federal level as well, with some of the nation's most China paranoid lawmakers going further and demanding a wholesale ban that would include consumer devices. Late last year, a bipartisan group of senators introduced the ANTI-SOCIAL CCP Act which aims to block all transactions from TikTok or any other social media company in or influenced by China, Iran, Russia, Cuba, North Korea, or Venezuela. That bill wasn't considered in either chamber, but it was quickly followed up last month by another bill proposed by Sen Josh Hawley (R-MO) and Congressman Ken Buck (R-CO) that would effectively ban TikTok from being downloaded on all U.S. devices. On the congressional level, the U.S. The House of Representatives has already moved to ban its member and staffers from using TikTok on government devices.
Abbott's renewed pressure on TikTok comes just hours before President Biden's highly anticipated second State of the Union address. Biden, who's taken an abrasive approach to Huawei and other Chinese hardware makers, has been comparatively less committed on TikTok. Just this week, the president said he was "not sure" whether or not the federal government should block the app.
"I know I don't have it on my phone," the President said according to Reuters.
Republican lawmakers, on the other hand , used the recent controversy over a Chinese surveillance balloon to press Biden on taking action against the app.
"Now blow up TikTok," Florida representative Matt Gaetz tweeted."