The South by Southwest festival started over the weekend with events devoted to the world of interactive media, which meant a lot of tweeting and foursquaring and other verbs based on annoying startup names with too many consonants. But luckily there was a conference on another world that we could escape to - a conference called South By Star Wars.
Photo of Planet Austin by jebrandt99
Organized by Jay Bushman, South by Star Wars is a twitter game that's entering its third year at SXSW. The first year, dozens of people reenacted the entire death star scene from Star Wars: A New Hope in tweets. Last year, Bushman created dozens of twitter bots to play the entire cast of The Empire Strikes Back and tweet every line from the movie over a period of 28 hours. This year he tried something different: He announced that there is a SXSW type festival taking place on planet Austin, and invited people to tweet Star Wars versions of their experiences at SXSW. No need to actually be at the conference to participate, of course.
But for those of us who did go to SXSW, the things happening at SX Star Wars (and the check-ins to forcesquare) were some of the best parts of the weekend. Here are ten of the best tweets. Want to follow along? The game is still going at the Twitter hashtag #SXStarWars, and you can also read more on the SX Star Wars tumblr.
1. @sxstarwars: Only 10 min til big Keynote by Admiral Ackbar: "It's A Trap" is just another way of saying "It's An Opportunity"
G/O Media may get a commission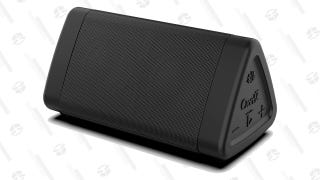 Save 31%
Oontz Angle 3 Portable Bluetooth Speaker
2. @sxstarwars: First featured panel of the day: Multi-Species Interface Design, or How Can a Wookiee pilot that thing?
3. @gregpak: It's 97 degrees in Austin - I knew I shouldn't have sliced open that tauntaun.
4. @novysan: I hear The Empire is going to release the new iTie Fighter at #SXStarWars. I can't wait to buy one!
5. @sxstarwars Panel starting in 5 minutes: Hacking Your Moisture Vaporator for Fun and Profit
@novysan in reply to: @sxstarwars The Mist4LifeCorporation reminds you that all changes to our vaporator units will VOID YOUR WARRANTY.
7. @JoeBirdwell: Trying to match photo badges with clone troopers. A total nightmare.
8. @gregpak: Stupid Dantooine hotel only has the Sith news channel.
9. @novysan: Princess Leia just admitted she was worried about recording her message on R2 because @ebertchicago would complain about the 3D
10. @jasonhall: Luke Skywalker very disappointing on yesterday's @shitmydadsays panel. On reflection, I think the guy actually still has issues