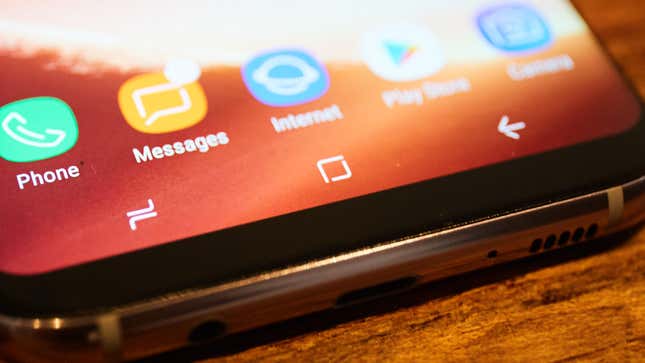 According to Mark Gurman at Bloomberg, a traditionally reliable source for iPhone news, Apple's tenth anniversary iPhone is shaping up to be the company's most ambitious phone yet. The phone will be a nearly bezel-free slab of glass and stainless steel (or possibly aluminum), the home button will be dead, and a gorgeous OLED display will be the focal point.

Twitter Is Shifting Right | Future Tech
If you're having a sense of deja vu, that's because the Galaxy S8 had the exact same series of redesigns from the previous iteration when Samsung announced it last month. While Apple has been popularly viewed as the big smartphone innovator, this year it's undoubtedly chasing Samsung.
But, according to Gurman, Apple might have a few tricks up its sleeve. Namely, groundbreaking software-based thumbprint recognition and multiple cameras on the front and back for augmented reality purposes. Apple's been rumored to be working on AR for a while now, and one would expect any AR capabilities built into the iPhone to give you similar capabilities to Google's Project Tango platform.
Only when Project Tango finally did reach a phone, it was fricking huge, only coming in Lenovo's massive Phab2 Pro. That doesn't exactly make for ubiquitous new tech that changes the way we phone. Putting AR in an Apple phone could finally push AR into the mainstream, where its been threatening to exist since the success of Pokemon GO.
The other big advance Apple is hoping to make is in how it senses our fingers. The tenth anniversary iPhone will reportedly be similar in size to the iPhone 7, but with a display size closer to the iPhone 7 Plus's 5.5 inch screen, leaving no room for the usual home button/thumbprint scanner. Rather than moving the button to the back (as Samsung, LG and many other phone makers have done), however, Apple is reportedly hoping to put the thumb print scanner on the display itself.
This hasn't been done before, because it's incredibly difficult to do. Bloomberg's sources consider the feat "technically challenging." But if you'll remember, Apple has been tackling this problem for a while. Just last year, it filed a patent for a possible solution: using ultrasonic tech built into the glass instead of the capacitive tech currently used to check your fingers.
Identifying touch via ultrasonic tech has been of great interest to phone makers. Capacitive sensors are much more reliable, but they limit the materials you can use. Ultrasonic sensors can be used with a variety of materials—but have, over the years, had a problem with reliability. It's why very few phone makers adopted the tech when Qualcomm introduced it last year, and why Samsung (under pressure in the aftermath of the disastrous Note 7) played it safe and skipped it entirely with the S8.
If Apple's really figured out how to put a reliable thumbprint reader directly into an OLED display, it will immediately set it apart from every other phone on the market. Which it's going to need to do—because otherwise the tenth anniversary iPhone is shaping up to be a really nice Samsung Galaxy S8 clone.