Netflix's Chilling Adventures of Sabrina is a bewitching series based on a popular comic book, but it also pays homage to the horror genre as a whole. Here are a few of the best horror references we came across during the first season, as well as a few special Easter eggs from behind the scenes.
Given how much this series pays homage to classic horror, I absolutely guarantee I did not get them all. If I tried, I would probably die from exhaustion and come back as a slowly collapsing loaf of bread. Be sure to leave some of the coolest ones you spotted in the comments! Blessed Be.
The House of Seven Gables
The exterior of the Spellman home is inspired by the 1851 novel The House of Seven Gables by Nathaniel Hawthorne, as well as the original house in Salem, Massachusetts. Hawthorne was inspired by the home's design and viewed it almost like a living thing, giving his story about a home haunted by curses, hauntings, and accusations of witchcraft an extra layer of fright.

G/O Media may get a commission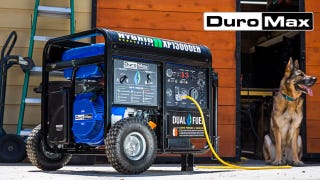 Black Friday Sale
DuroMax Generator Sale
The red front door in particular, seen on the right-side image, is a special reference. It's designed to look like the batten front door in the original home—with nails embedded in it to apparently "keep the witches out" (clearly it's not working). Only the Spellman house door is painted red, to symbolize that it's Sabrina's home.
Night of the Living Dead
The series opens with Sabrina, Harvey, and their friends watching George A. Romero's zombie film, Night of the Living Dead. It's fitting, considering how it's an iconic piece of horror history. However, it's also fun to spot the other films taking place during the Paramount's Horrorthon. For instance, there's a movie poster for Tod Browning's Freaks, a pre-Code horror film from 1932 that was supposedly so shocking that it had to be cut down from its original 90 minutes to a more acceptable 64-minute runtime. And the original version no longer exists. Except, it seems, in Greendale.
Miss Baldwin
There are plenty of gorgeous posters sprinkled throughout Chilling Adventures of Sabrina, including movie posters for the Swedish witchcraft film Häxan as well as Hollywood curio What Ever Happened to Baby Jane?, and several tributes to Archie's Mad House. However, the one that I loved the most was spotted in Harvey's dinosaur-wallpapered bedroom, a vintage poster for Miss Baldwin, "a Modern Witch of Endor." That's because Miss Baldwin was a real person.
During the heyday of Victorian Spiritualism, there was a performer named Samri S. Baldwin who, together with his wife Kitty Baldwin, became a world-renowned magical duo called the "White Mahatmas" (yeah I know, it's colonialist as hell). Kitty was famous for her supposed telepathy. She would dazzle the crowd by predicting things like whether or not a husband was cheating, or the results of a boxing match—though she failed to predict who would succeed Grover Cleveland as the next president.
The Exorcist
In the sixth episode, "An Exorcism in Greendale," Sabrina teams up with Miss Wardwell, Hilda, and (eventually) Zelda to exorcise a demon from Susie's uncle. We see the three women arrive at the house as it bathes the street in light, a clear homage to the priest's arrival in the original 1973 film, The Exorcist.
Suspiria 
During an earlier set visit, production designer Lisa Soper revealed that the doors for Father Blackwood's office were recreated from the original 1977 version of Suspiria. There's also a stained glass ceiling in the Spellman house taken from Suspiria. Since we just got a remake of that film, it feels both classic and timely.
While you can't see it here, there's also a side table in the office that's configured to look like the box from Hellraiser when they open up the portal. It's fitting, considering how much of Clive Barker's original artwork graces the walls of the Academy of Unseen Arts. You can spot several other references to Hellraiser on the series, most notably at Madam Satan's house. Her entryway floor, the wallpaper, and stained glass windows are all inspired by the film.
Charles Manson
When Sabrina joins the Academy of Unseen Arts in episode 4, her first class is choir. Upon entering the room, we hear the group singing "I'll Never Say Never To Always," written by none other than Charles Manson. Sabrina quickly joins in and shows them up, proving that she may already be drinking the Kool-Aid.
Carnival of Souls
In episode four, "Witch Academy," things start getting a bit spooky for Susie and Roz. While having a slumber party, they're summoned by Sabrina's uncle, who's been possessed by a demon. The movie he interrupts is Carnival of Souls, a 1962 low-budget horror film. It's a cult classic that has survived for decades, inspiring generations of horror filmmakers... including George A. Romero.
This is a fascinating pick for the characters because not only is it a classic horror flick, but it also reflects the experiences of Sabrina's friends. After they come into contact with Susie's uncle, they start to see things that make them doubt and question the world around them. They lose their grip on reality, tumbling them head-first into a world of magic that none of them are ready for. Really, it's the beginning of the end.
"The Devil and Daniel Webster"
When Sabrina is put on trial over her refusal to sign the Dark Lord's book, she calls upon Daniel Webster to help plead her case. This is an interesting addition to Chilling Adventures of Sabrina, as he's one of the only instances in the season where a fictional character who isn't part of the Sabrina lore is presented as a real person. In the series, Daniel Webster is a mortal lawyer who specializes in witch law and once beat the devil in court. Sabrina gets mad when she learns that he helped murderers, sex offenders, and other ne'er-do-wells get off scot-free, but eventually he ends up saving her soul so he's cool.
The original story is a tad different. "The Devil and Daniel Webster" is a 1936 short story about a lawyer who defends a farmer who'd sold his soul to Satan. It carries strong themes of patriotism, with Daniel Webster arguing that the farmer cannot sell his soul to Satan because, as an American, he can't pledge loyalty to a foreign prince. Satan then argues that of course he's American because look at all the awful shit you guys do. I mean, he's got a point. But he still ends up losing to Daniel Webster, who gets kinda-maybe cursed as a result.
Bates Motel
The wood used for the siding in Ambrose's attic was actually reclaimed wood from the Bates Motel TV series. Soper revealed during the set visit that she went and grabbed some of the wood used for the motel exterior after Bates Motel had been cancelled in 2017. Given how isolated and lonely Ambrose is, it only makes sense that he shares a space with Norman Bates.
Nightmare on Elm Street
In the aforementioned exorcism episode, Susie's uncle proceeds to haunt the crap out of Sabrina's mortal friends. Harvey gets a terrifying surprise when Susie's uncle shows up in his room to taunt him with insults about his inferiority complex. It's not unlike when Johnny Depp's Glen Lantz is nabbed by Freddy Kreuger in 1984's A Nightmare on Elm Street. 
So, it only makes sense that Harvey is dressed exactly the same way Glen was during that scene. He's got on the oversized headphones and sweatpants, even down to the crop top emblazoned with the number 10. Luckily for Harvey, he survives his dangerous encounter. Glen... not so lucky.
Little Shop of Horrors
It's an adorable and carnivorous Easter egg. In the Spellman greenhouse, there's a little baby Audrey II from Little Shop of Horrors. It's really hard to spot, so I grabbed a picture of it on set.
Riverdale
This isn't specifically a horror reference, but it is a horrifying one. Even though it's been stated that Chilling Adventures of Sabrina and Riverdale are two separate shows, there was one crossover. Ben Button.
You might not recognize him—well, apart from the super-shocking reveal that I'm about to spill right now—but he's been on Riverdale occasionally for the past few seasons. For example, he's the boy who was hanging with Miss Grundy on the night the Black Hood killed her. He gets around. What you might recognize him for the most is the fact that he's dead.
Ben Button killed himself in the second episode of Riverdale's third season, jumping out of a hospital window in tribute to the Gargoyle King after playing a dangerous game of not-Dungeons & Dragons. Yet here he is, delivering a pizza to Madame Satan before presumably getting eaten alive, supposedly three months after his demise on Riverdale (if you follow the calendar). How is this possible? Well, showrunner Roberto Aguirre-Sacasa kinda explained it to Entertainment Tonight. Either Greendale exists in a time warp, or Ben's a zombie:
It suggests a very deep, deep mythology where time and space bends. I love that kid. I'm sad that he keeps turning up and horrible things keep happening to him... It seemed like it was pretty final, but yet there he is in Greendale. But in Greendale, everyone pops up. The dead don't stay dead long in Greendale.
That's horrific.