Who is D.B. Cooper? The question has persisted since November 24, 1971, when a mysterious man hijacked a flight from Portland to Seattle, demanded parachutes and $200,000, and skydived into folk-hero history. Cooper's identity and fate remain unknown — and many theories about both abound.
Cooper (who actually bought his plane ticket, which cost $2o including tax, under the name "Dan Cooper;" the "D.B." was misreported early on, and stuck) left very few clues behind. One pictured below is his clip-on tie, from which DNA was extracted in 2001 — a forensic advancement that has helped rule out a few promising suspects. He also left behind a parachute and its bag (he used part of the chute to tie up his money). In 1980, $5,800 of Cooper's ransom money was found by an eight-year-old boy on a camping trip.
The Cooper case is alluring to law enforcement like FBI agent Larry Carr, who reignited interest in the case in 2007 (he's featured in the video at the end of this post), and amateur detectives, who pore over its details in online message boards. And Cooper is still a pop-culture touchstone; there's even a music festival named after him. But who WAS he, and what happened after he leaped away from Flight 305? Here are just some of the explanations that've been considered over the past four decades.
1. He died in the fall
The first and most obvious conclusion is that D.B. Cooper, whoever he was, did not survive the jump. The FBI considers this a possibility:
"We originally thought Cooper was an experienced jumper, perhaps even a paratrooper," says Special Agent Carr. "We concluded after a few years this was simply not true. No experienced parachutist would have jumped in the pitch-black night, in the rain, with a 200-mile-an-hour wind in his face, wearing loafers and a trench coat. It was simply too risky. He also missed that his reserve chute was only for training and had been sewn shut—something a skilled skydiver would have checked."
G/O Media may get a commission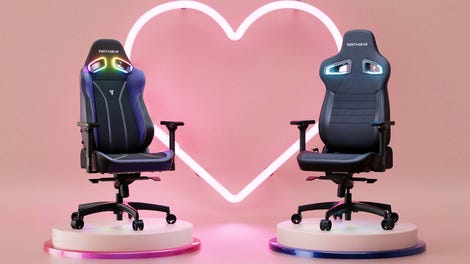 Up to $150 off
Vertagear Gaming Chairs
And even if he made it to the ground alive, it was winter, and he was dressed for air travel, not forest survival. It's almost certain he had no accomplices waiting to meet him. For one thing, there would have been no way for anyone to track his location; his instructions to the pilot were just "Fly to Mexico," and he jumped at a random location with zero ground visibility, according to Carr. What's more:
As many agents before him, Carr thinks it highly unlikely that Cooper survived the jump. "Diving into the wilderness without a plan, without the right equipment, in such terrible conditions, he probably never even got his chute open."
However: his body, and the parachute he used, have never been found.
The tie left behind, and the money found in 1980. Source: FBI.gov
2. Kenneth Christiansen
In 2007, Geoffrey Gray's New York Magazine article, "Unmasking D.B. Cooper," and subsequent book, Skyjack: The Hunt for D.B. Cooper, offered an in-depth look at the case. He was the first reporter given access to the FBI's Cooper case files, so his perspective is unusually detailed. The starting point for Gray's story: a New York private detective who was contacted by an elderly man, Lyle Christiansen, who had become convinced that his late brother Kenneth was Cooper, and who was obsessed with getting Nora Ephron to make a movie (his suggested title: Bashful in Seattle) about how he "solved" the case.
Kenneth Christensen had been a paratrooper whose first deployment came just after World War II; after he left the military, he worked as a mechanic and a flight purser for Northwest Orient Airlines, the carrier that Cooper chose for his hijack. There were other eerie similarities, too, like the fact that Kenneth loved bourbon, and that he'd bought a house (a modest one) not long after the crime. Author Gray showed Kenneth's photo to the only hijack witness who's still alive, a woman who'd been a flight attendant that November night, and she acknowledged the resemblance (with reservations). Most intriguingly, there was this, as Gray writes:
On his deathbed, Lyle remembers, his older brother pulled him close. He then said something that didn't make sense to him then. It does so now.

Kenny said, "There is something you should know, but I cannot tell you!"

Lyle didn't want to know. "I don't care what it is you cannot tell me about. We all love you."
Need more? Check out this exhaustive, 25-point evidence list of all the reasons Christiansen could be Cooper.
But the FBI isn't so sure; its response to Gray's initial article pointed to the fact that Christiansen had been a paratrooper (since the agency thinks the hijacker could not have been one), and the fact that Christiansen was shorter and slighter than eyewitnesses descriptions of Cooper. Also, the hijacker had hair, while Christiansen was balding ... though, as an acquaintance recalled, "Kenny sometimes wore a toupee."
The parachute and bag left behind. Source: FBI.gov
3. Lynn Doyle Cooper
In 2011, a woman named Marla Cooper publicly suggested her late uncle, Lynn Doyle Cooper (or "L.D."), was D.B. Cooper. Her mother, Grace Hailey, was L.D.'s sister. She agreed with her daughter's theory, and had some interesting evidence to back up the family's claims.
According to an ABC News report:
Hailey doesn't remember much about that Thanksgiving in 1971 where her brother-in-law returned to the house in Sisters, Oregon, but she believes he could be the hijacker. Hailey's statements are one reason why the FBI thinks the tip from Marla Cooper is credible.

"I've always had a gut feeling it was L.D.," Hailey told ABC News. "I think it was more what I didn't know is what made me suspicious than what I did know, because whenever the topic came up it immediately got cut off again."

Hailey says that L.D. grew up in Sisters and was familiar with the area where the hijacker jumped — a fact that is consistent with the FBI's theory that D.B. Cooper knew the Pacific Northwest. He was also a war veteran, which matches the theory that the hijacker had a military background, [and he] was a logger and an outdoorsman — tough enough, Hailey believes, to leap out of plane into the wilderness.
He also showed up to a family Thanksgiving gathering in 1971 looking quite beat up; there'd been a car accident, he claimed. For the purposes of fingerprint testing, Marla Cooper gave the FBI a guitar strap that L.D. left behind, but it was found "not conducive to lifting fingerprints." DNA evidence taken from the sample pulled from the hijacker's tie, assumed to be from the elusive Cooper (but a matter of some contention; more on that below), did not match L.D.'s DNA.
However, according to CNN:
Despite the failed link, the new suspect "has not been ruled out as a suspect," FBI Special Agent Frederick Gutt said.
4. Duane Weber
The FBI will have you know that "Duane Weber, who claimed to be Cooper on his deathbed, was ruled out by DNA testing," but in 2000, he was still a promising suspect. According to a CBS News report at the time:
Hospitalized in Florida with kidney disease, Duane Weber motioned to his wife to come close. After 17 years of marriage, there was something she needed to know."

He says, 'Come here. Come closer.' He wanted me about two feet from his face," Jo Weber recalls. "He says, 'I have a secret to tell you.' I said, 'What?' He says, 'I'm Dan Cooper.'"

Since her husband's death in 1995, Jo Weber started to piece together the clues dropped over the years: Jo recalled the sleep-talking nightmare Duane had about "leaving finger prints on a plane," an old knee injury he claimed he got from jumping out of a plane, the local library book on D.B. Cooper with Duane Weber's handwriting in the margins — the items she stumbled across during 17 years of marriage.

"I can't walk away from it," Jo says now. "Why would he have an old Northwest Airline ticket? Why would he take me to a place where eventually the money was found. Why all of this? There's too many pieces of the puzzle that fit."
At the time, the former lead FBI agent on the case, Ralph Himmelsbach, believed her story, citing Weber's physical resemblance to Cooper, and his criminal background. And about that DNA test ruling him out — as Skyjack author Gray pointed out in a 2011 New York Magazine article, "inconclusive" is kinda "inconclusive" unto itself:
Special Agent Fred Gutt said the DNA sample found on the tie had come from three different people and was not enough to rule Uncle L.D. out. In the past, other agents have used the partial DNA sample to rule out suspects, most notably Josephine Weber, who for the last fifteen years has been aggressively claiming her ex-husband Duane Weber (a career felon and con artist who also lived under the name John C. Collins until late in life) was Cooper ... Initially, Jo had no idea what he was talking about, and since she read about the actual alias the hijacker gave her ("Dan Cooper") she's been trying to prove her case.

Agents took forensic samples from Duane, such as hair from his razor. Once the partial DNA sample was discovered on the tie in 2007, agents ruled Duane out, despite Jo's shrill frustration about the quality of the sample. So if the DNA on the tie isn't good enough to rule out Uncle L.D., is Cooper suspect Duane Weber back in? What about the others?
5. Richard McCoy
D.B. Cooper's daring (and apparently triumphant) escapade inspired no small amount of copycat crimes. The most high-profile was perpetrated by a man who some suspected wasn't a copycat at all: Richard Floyd McCoy, Jr., "a Vietnam veteran, a former Green Beret helicopter pilot, and an avid skydiver" who was studying law at Brigham Young University.
McCoy hijacked a plane in 1972 and parachuted to freedom with half a million dollars, but he was captured days later, having left behind way more evidence than whoever committed the 1971 heist. Convicted of the 1972 crime, he busted out of jail in August 1974 and was killed in three months later in an FBI shootout. Though his age (29 at the time of the Cooper hijack) and the fact that he had an alibi cast some serious doubts, a 1991 book about his exploits raised his ranking on the "Who Was D.B. Cooper?" matrix:
D. B. Cooper: The Real McCoy, co-authored by an ex-FBI agent named Russell Calame, was published in 1991. The book made the case that Cooper and McCoy were really the same person, citing similar methods of hijacking and a tie left by Cooper similar to those worn by Brigham Young students. The author said that McCoy "never admitted nor denied he was Cooper." And when McCoy was directly asked whether he was Cooper he replied "I don't want to talk to you about it." The agent who killed McCoy is quoted as saying, "When I shot Richard McCoy, I shot D. B. Cooper at the same time." The widow of Richard McCoy, Karen Burns McCoy, sued and won a settlement from both the book's co-authors and its publisher.
Image source: FBI.gov
6. Barbara Dayton
Could D.B. Cooper have been a woman? Pilots-turned-authors Pat and Ron Forman believe so, citing a confession, later recanted, made to them by their friend Barbara Dayton — a World War II veteran who was born Robert Dayton. (The FBI never commented on her.) In 2008, the Formans spoke about their book, The Legend of DB Cooper: Death by Natural Causes, to fellow author and Cooper enthusiast Bruce A. Smith, who writes:
The Formans say Dayton told them bits and pieces of her famous story over a life-long friendship that began in 1977. Perhaps even more startling than the notion that DB Cooper was a woman, the Formans verify Dayton's claim that she received the first sex-change operation in Washington, which was performed in 1969. Thus, the Formans say, Dayton donned the supreme disguise by reverting to her male persona to become DB Cooper.

One indisputable fact is that Barbara Dayton was a highly skilled pilot and parachutist, showing a fearlessness that bordered on reckless. In addition, she was a proficient machinist and explosive expert, all skills that DB Cooper displayed during his hijacking.

...The Formans also say that Dayton never spent the money, and only did the crime to satisfy personal issues relating to her sex-change operation.

"Barb was a woman who always lived on the edge," said the Formans. "She was a fascinating and remarkable woman."
7. William Gossett
Described as a "quirky guy" with a military background and the necessary physical characteristics, college instructor Gossett, who died in 2003, and told both of his sons several times that he was the hijacker. His son, Kirk, recalls taking a "strange trip" to Vancouver, Canada with his father two years after the hijacking, possibly to stash the ransom money in a safety-deposit box there.
ABC News reports that the FBI was "skeptical" of William Gossett's claims.
"There is not one link to the D.B. Cooper case other than the statements (Gossett) made to someone," said FBI Special Agent Larry Carr, who is overseeing the Cooper investigation.
Others disagree:
Galen Cook, a Spokane, Wash., lawyer who has been investigating the Cooper case for more than two decades, said he submitted a fingerprint of Gossett's to the FBI's Seattle office and hopes it will confirm his theory, which he plans to publish in a book.

Gossett had military experience, including wilderness survival, and resembled the FBI composite sketch of Cooper, Cook said.
8. John List
This irresistibly insane theory is included here because how could we not? John List killed his entire family in 1971, the same year D.B. Cooper took to the air. He was captured in 1989 after living under a false identity for 17 years (thanks to a tip generated by America's Most Wanted.)
Could he have been Cooper? Probably not, but why not throw his name in there anyway? In 1989, in the wake of List's high-profile arrest, the LA Times offered the following speculation:
"John List is one of any number of people suspected in the D. B. Cooper case," FBI spokesman John Eyer said. "He will be investigated until he is eliminated."

Ralph Himmelsbach, a retired FBI agent who investigated the hijacking, believes Cooper died, but said List warrants investigating.

Himmelsbach, who now lives in Portland, Ore., said List and Cooper have similar descriptions. Cooper was described as in his mid-40s. List was 44 at the time of the slayings. Both were about the same height and weight and wore glasses.

Himmelsbach also said List had spent the last $200,000 of his mother's savings account shortly before the killings. Cooper demanded and received $200,000 before parachuting from the plane near Mt. St. Helens in Washington state. He was never found.
For more stories like this, check out io9's new subsite, True Crime!