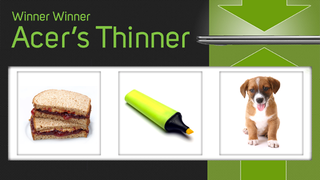 Acer's Aspire S3 Ultrabook is really thin, like, really, seriously thin. Exactly how thin is it, you might ask? At just 2.9 lbs and 0.5 inches, it's thinner and lighter than its competitors, but that's not too surprising considering the Aspire S3 Ultrabook is a featherweight next to, well, pretty much everything. It's dwarfed by dogs, wisp-like compared to a copy of War and Peace, and positively spindle-shanked beside a slice of Sicilian pizza.
To prove just how svelte the Aspire S3 Ultrabook is, Acer is hosting a sweepstakes on Facebook called "Winner Winner Acer's Thinner." All you have to do to win is like their fan page and select which image you think is thicker than an S3 Ultrabook. Four lucky ducks will receive a brand-new laptop, and four more will get $50 Amazon gift cards!
Head here now for your chance to play Winner Winner Acer's Thinner, and to see just how thin the Aspire S3 Ultrabook really is.