In December of 2009 Apple bought a small startup led by Bill Nguyen named Lala. The company was named after the first words of Nguyen's adopted son. It was also a word play on the solfège note "La". Lala struggled through pivot after pivot in the music industry, buying digital radio stations, a CD swapping business and finally streaming music.
Amongst it's struggles, Lala did have an interesting success. In 2009 when you Googled a song, the first result was a Lala result. Not an iTunes result, not the artist's MySpace or website… a Lala result. Every click that led to Lala wasn't leading to iTunes for a potential music purchase. Even worse for Apple, Lala was often a better deal. When Lala partnered with Google (for Google's Music Beta) there was a clear and present danger to Eddy Cue and his iTunes empire. Nguyen had pure gold and started a bidding war for the control of the company.
The war didn't start with Apple and Google though, as you might think. Curiously, it began with Nokia. In a small room, on a cold night, with 40+ people hovered around a Polycon in Finland, they crafted an offer letter to Nguyen and his near-dead Lala. The intention was to breathe new life into Nokia's mobile OS by creating an edge on a major aspect of mobile devices, music.
Upon reception of the Nokia offer, Bill immediately called Google and said they were discussing an acquisition deal with Nokia and that time was limited. Google's investment and engineering resources in Lala were seemingly about to vaporize. Unbeknownst to Google, though, Nguyen was absolutely disgusted with the offer from Nokia (around $11M).
Google was worried, they moved fast. They presented Nguyen with an offer for the company. Previously, Bill told M&A from Google what it would take to acquire the company. Instead of meeting his demands they decided (via a lowball offer) to see if Nguyen was desperate or bluffing. Bill made his next move.
G/O Media may get a commission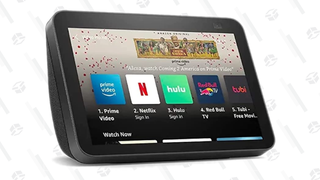 He called in a few favors and got a meeting with the leadership at Apple. He explained that he had offers from the largest mobile OS competitors and that they wanted to acquire his music startup. Cue knew if Google obtained Lala the ownership of the service coupled with search dominance could be disruptive to their stronghold. Bill was notorious at getting great deals with the music elite, usually through Lala's investor, Warner Brothers Music.
In late November, Nguyen was seated at the dinner table in Steve Job's home on Waverly St in Palo Alto. Also present were Eddy Cue and Tim Cook and other Apple executives. Steve led the conversation while eating a beet salad:
"I'm going to give you a number, Bill, and if you like it, let's do it and just be done with this whole thing. Okay?" Bill agreed.
Jobs passed a piece of paper to Nguyen and Bill nodded. The deal was done. Apple successfully acquired Lala for roughly $80M (purchase price) with an additional $80M in retention bonuses for the remaining employees valuing the entire deal around $160M.
The ultimate irony in this story is that quite a few notable members of the Lala-to-Apple team followed Bill through the door and onward to his next venture. They left millions in options at a the $196.48 exercise price they had from the 2009 sale/retention bonuses. Some of those same engineers returned to Apple in the highly covered rumor that 20+ engineers went to Apple for $7M.
Apple obtained the same employees for pennies on the dollar. This time with even more experience and startup life under their belt. Paying twice was genius.
Image credit: Shutterstock/Malyugin
Aubrey Johnson is a designer in residence at Science. He led design for Color and Twilio. You can follow him on Twitter here. This post originally appeared on his personal blog.