We're used to hearing about military camouflage, which has been used to hide everything from ships to whole towns. But there are plenty of less explicit forms of large-scale camouflage out there—like the architectural sort, which ranges from hiding buildings just below the ground plane to coating them in mirrors.
You'll notice we plucked most of the following projects from the wonderful database on Architizer, which is currently staging its second annual Architizer A+ Awards—which lets 200 jurors (and the internet) choose the best design of the year—at the moment. If you're game to submit something of your own for consideration, be aware that the registration deadline ends on Friday, November 1—head over and register here.
---
On Greece's Antiparos Island, locals have built houses for thousands of years using traditional rammed earth retaining walls. This contemporary home by decaArchitecture is no different: It's suspended between two natural curves in the island's topography, which makes it almost invisible if you don't know where to look.
G/O Media may get a commission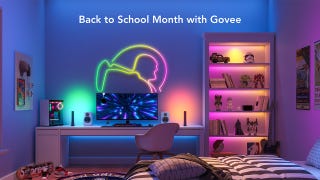 Back to School
Back to School Month with Govee Sale
---
The architect Dan Hisel built this tiny sauna on the Saranac River, in upstate New York. The wood structure is framed almost completely in mirrors—which make it tough to spot, hanging above the river, unless its single window is illuminated. "This surface, and, by extension the building as a whole, loses itself in the landscape just as the landscape tends to lose itself into the sauna," Hisel explains.
---
This home on the coast of Melbourne is almost completely undetectable from the ground—only an aerial view of the coastline reveals its existence. The "ruthlessly elegant" concept was designed by Australian architects Denton Corker Marshall, in 1983. [via Architonic]
---
This public restroom—located in San Sebastian, Spain—reflects the Basque country terrain around it, thanks to its mirrored facade panels. It was designed by Robert La Tour d'Affaure.
---
Portuguese architect Luís Rebelo de Andrade has made a career of designing buildings that are barely detectable in the natural landscape—like the Tree Snakes House, which Andrade had the following to say in a recent Architizer interview:
We didn't want you to be able to see the buildings, so we used black materials from the region because the park is very dark and has many black materials, with which we covered snake houses. You don't see them in their new place so sometimes you're surprised, 'Oh! there's a house there!'"
---
During the day, the austere facade of this British home is imposingly blank—it's even embedded with silica carbide particles, a high-performance material used to protect nuclear missiles and build electronics. At night, though, the Hidden House's steel butterfly doors reveal a laser-cut pattern based on a pixelated image of rain on a window—and the home becomes a kind of lantern.