The Avengers are relocating from New York to Los Angeles, at least for filming purposes. Men in Black 3 is taking a post-Christmas break, but why? Is Dr. William Bell returning to Fringe? True Blood's Sam promises naked insanity. Spoiler-licious!
Is AI Moving Too Fast? | Future Tech

The Avengers
Although the film is still planning to shoot some scenes in New York, the bulk of filming will now reportedly be done in Los Angeles. By all accounts, the Avengers themselves aren't moving to the west coast, but LA (or studio sets) will have to do more work doubling for New York than was previously expected. This is thought to be a budget-conscious decision, in line with Marvel's desire to keep this movie as cheap as possible. [Bleeding Cool]
Men in Black 3
Production is due to start this week in New York, but will shut down for two months after Christmas. It's not sure what the reasons are - the producers claim it's just to allow certain scenes to be shot during the warmer months — but there are rumors the time travel parts of the movie's screenplay need to be reworked. [The Los Angeles Times]
G/O Media may get a commission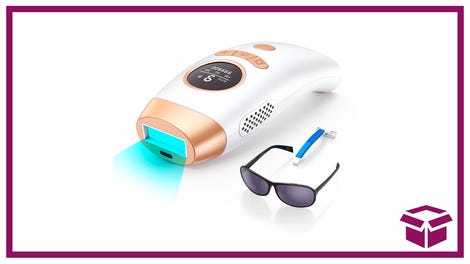 58% Off + Coupon
IPL Hair Removal Device
The Thing
The prequel to John Carpenter's 1982 movie recently had its release date pushed back, but according to producers the reasons are reasonably benign. Producer Marc Abraham explains the film needs reshoots, pick up shots, and in particular extensive post-production work, all of which are fairly standard for a big budget monster movie and shouldn't necessarily be seen as cause for alarm. [Hitfix]
Harry Potter and the Deathly Hallows
Here's another long interview, this time with director David Yates. He explains how much action we can expect and why the first film wasn't converted to 3D: [/Film] Click to view

Gulliver's Travels
I know we're trying to think about this as little as possible, but a few new promo photos have been released: [IGN]

Fringe
Lance Reddick reveals alt-Broyles plays a crucial role in setting Olivia free:
"I figure out that she knows who she really is. He decides to save Olivia because they're about to dissect her. She is the only one they have ever found who can cross back and forth between universes safely without any of the effects, and they want to know why."
That sets in motion a chain of events that ends with the Olivias back in their proper universes, but that's just the start of the troubles. Peter in particular has a lot to figure out, as Joshua Jackson explains:
"The last interaction he had with Olivia was, 'I'm not quite sure how I feel about you, but I'm gonna take a huge emotional gamble on what we could be.' Now the payoff for that gamble was that he actually did fall in love, just not with the woman he was signing on for. How do you broach that conversation?"
There's a lot more at the link, including Jackson's musings on whether this revelation will make Peter a bit useless. [TV Guide]
Leonard Nimoy was supposedly seen filming for season 3 today with Joshua Jackson. Don't take this as anything near confirmed, for now - grains of salts remain at the ready. [#fvTradex]
There were some less than reliable reports earlier about this, but it does indeed appear that episode 9 will be titled "Marionette." [SpoilerTV]
Here's a set photo from Vancouver: [Susan Gittins's Flickr]

The Walking Dead
Executive producer Frank Darabont says the in-group rivalries will heat up very soon, and dissension will become a real problem. Producer Gale Ann Hurd also says Noah Emmerich's Dr. Jenner, who works with the Centers for Disease Control, is crucial because of "his own unique perspective on the crisis." [TV Guide]
More promo photos have been released for episode 4, "Vatos": [SpoilerTV]

True Blood
Sam Merlotte portrayer Sam Trammell says his character will be getting naked pretty much immediately, and audiences won't have to wait long for the first utterly insane moment of the fourth season. He says he is working with a few new characters next season, and he hinted at what's in store for his character and his kind:
"There are gonna be some really cool shapeshifter-y things happening. There might be a shapeshifter community that we meet. And I can't say what it is, but there's something that happened that sort of changes everything, something at the beginning changes everything in town. So it's going to be cool, because you have the same characters and the same deal, but there's going to be something that makes it all fresh."
No Ordinary Family
The powers will soon revealed to be temporary, and one thing in particular is very effective at taking them away. Autumn Reeser's Katie will soon be up for a suspicious promotion. And "something cool and unexpected" will happen with Rebecca Mader's upcoming guest character. [E! Online]
Another report says the November 23 episode will see Jim lose his powers, which ties in nicely with the last bit of news. Also, Daphne will come close to realizing the truth about Dr. King (AKA Evil Stephen Collins), and we'll meet a new supervillain who both Jim and Stephanie have to fight. [TV Guide]
The Event
Jason Ritter explained that the producers do have ways to wrap up the show's story in just one season if the ratings don't improve enough to get a second season, although he doesn't think it will come to that. Vice President Jarvis actor Bill Smitrovich noted that the show will indeed go on a break after the first 13 episodes, and the second half of the season will be preceded by an hour-long clip show that will get viewers all caught up. [EW]
Here's a promo for episode 9, "Your World to Take": [SpoilerTV]
A quickie synopsis is out for episode 10, "Everything Will Change":
Sophia's suspicions are confirmed when Thomas reveals a shocking new plan; Leila and Sean battle mercenaries while searching for Samantha.
Supernatural
In an effort to escape Crowley's influence and yet still save Sam's soul, the Winchesters are forced to go to some pretty extreme lengths in the December 3 and 10 episodes, where they enlist the angels Castiel and Balthazar, as well as the demon Meg Masters. [TV Guide]
A bunch of images are out for the December 3 episode "Caged Heat": [KSiteTV]

Stargate Universe
The mid-season finale finds the team able to fly Destiny themselves for the first time. They discover a graveyard of alien ships from a long ago battle, but their arrival causes the battle to recommence. Lou Diamond Phillips's Colonel Telford mysterious reappears to come to the team's aid. [TV Guide]
Smallville
Annette O'Toole will reportedly be back as Martha Kent in the thirteenth episode, "Beacon." Allison Mack will reportedly make her first return as Chloe in episode 12, "Collateral." [Fancast]
Sanctuary
A Victorian psychopath who Dr. Magnus was forced to kill more than a century ago manages to time-warp to the present day. The character, Adam Worth, is played by Ian Tracey and threatens to reveal the existence of Hollow Earth, which creator Damian Kindler describes as "an entire world that has been hidden from us for a very good reason." [TV Guide]
Being Human
Here are some character photos comparing the BBC originals on the left with the Syfy remake's actors on the right. [SpoilerTV]
Additional reporting by Katharine Trendacosta and Charlie Jane Anders.