If the weather wasn't enough to clue you in, you can't ignore that it's definitely summer now that the schools are closed and the kids are suddenly free from the clutches of teachers and homework. Sadly that leaves us with the problem of keeping them entertained over the next couple of months. School might suck, but it does keep them occupied during the day. To make sure they don't drive you nuts, here are things to keep your kids busy and quiet.
Subscription to Xbox Live Gold or PS+
Gaming is a big time sink, and when you're playing online there's plenty of time wasting to go around. Now if your kids have a console (other than a PS3), they're not going to be able to do that unless they have a subscription to the right online service. Both Xbox Live Gold and PS+ are available in increments of three months or one year, which is more than you need to keep them occupied shooting n00bs in the latest Call of Duty. [Buy Xbox Live Gold Here / Buy PS+ Here]
Amazon Fire TV Stick, £35
G/O Media may get a commission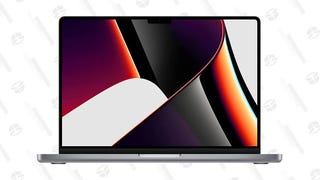 Save $300
2021 14" 1TB MacBook Pro
Television has long been utilised as a mechanical child-minder, and just because television is changing doesn't mean it still can't be. You could sit your kids in front the regular old Freeview TV, but that's only going to lead to complaints that there's nothing on. With the Fire TV stick they can watch whatever they want on demand through a variety of streaming services, or they can listen to a bunch of music. The Stick itself comes with a 30-day trial for Prime Instant Video, which should keep them quiet for a bit, plus unlike Chromecast it has a nice child-friendly remote control. There are also has games on it, in case they get bored of watching films and TV. [Buy it here]
Kano Computer Kit, £120
This is an expensive one, but it has the added bonus of keeping your kids occupied by teaching them something that could be useful in their adult lives. Kano is a set that lets the user build and program your own Raspberry Pi-powered computer. It's designed to be as simple as building something out of Lego, and lets the user program their own games and learn the basics of coding. [Buy it here]
Pokémon Alpha Sapphire/Omega Ruby, from £31
Every child deserves to play a Pokémon game, and given how long they are it's bound to keep them occupied for most, if not all, of the summer break. Seriously, now that there are something like 700 hundred Pokémon it's going to take them a long long time to catch them all. [Buy the game here / Buy the 2DS bundle here]
Fire HD 6 Kids Edition, £140
There are an awful lot of great uses for a tablet, but do you trust your child with a nice expensive one? Probably not, which is why the Fire HD Kids Edition exists. This is a tablet designed specially for young children, with built-in parental controls, a durable case to protect against damage, and year's subscription to Fire for Kids Unlimited. That means your kids get unlimited access to suitable books, TV shows, films, educational apps, and games, without it costing you a penny. There's also a two year worry-free guarantee, which means that if it breaks (for whatever reason) Amazon will replace it no questions asked. [Buy it here]
Lego Classic Large Creative Brick Box, £32
Every child in the world loves Lego, and that makes it the perfect toy for distracting them. But this isn't one of those expensive Lego sets where you follow the instructions then never touch it again, this is a box of bricks specifically designed for creative building. There are nearly 800 pieces in here, all coming in a variety of different shapes, sizes, and colours. Perfect for them to build whatever they like, and then tear it up again on a whim. [Buy it here]
Minecraft, from £17.50
If your kids don't want to play with Lego, or you think having hundreds of small plastic pieces lying around sounds like hell, you could go for the next best thing: Minecraft. It is is basically Lego in video game form, after all. It's got exploration, adventure, building, and multiplayer, so it should keep your kids glued to their screens for a decent chunk of the summer holiday. [Buy it here for consoles / Buy it here for PC]
iPod Nano, from £80
Everybody loves having their own personal music player, because it lets you create a soundtrack to your own life. Your kids are no exception to that, and giving them their own iPod will be a great way to get them to shut up and listen to music while they go about their summer activities. While the Nano doesn't have Wi-Fi, and no access to that lovely three month Apple Music trial, it still has all the basics like video playback, radio, music, and so on. [Buy it here]
14 in 1 Educational Solar Robot Kit, £15
Another educational tool, this time teaching the fundamental basics of robotics and solar power. There are 14 different models you can make here, over two levels of difficulty, and there are combinations that can tackle both land and water. And the whole solar power thing means the kids won't be pestering you for batteries every few hours. [Buy it here]
Sennheiser HD 202 Closed Back On-Ear Stereo Headphones, £29
Right, so you've managed to get your kids down with a game or their music. It might be a good idea to throw in something that's going to drown out potential distractions like screaming neighbour children/siblings. These noise cancelling headphones from Sennheiser are perfect for making sure there's no background distractions while they're doing their thing. But failing all of that, they're also perfect to give you the parents some much needed peace and quiet. [Buy it here]
Streaming Subscriptions
As always streaming is a great way to pass the time, and just because they're your kids doesn't mean they should miss out on all that glorious on-demand content.Netflix, Amazon, Spotify, Apple Music, all offer free trials, and while it might not be enough to get you through the whole summer it should keep them quiet for a while.
Featured image: John Morgan/Flickr (Modified)
---
This post originally appeared on Gizmodo UK, which is gobbling up the news in a different timezone.