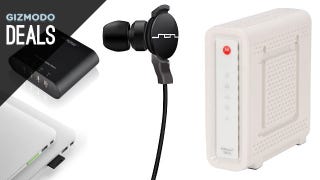 There are several nice deals available today for Mac owners, ranging from a versatile Tunderbolt dock to extra storage for your MacBook, but there are plenty of sales that anybody can appreciate, including a nifty solar battery charger for outdoor enthusiasts, and a great modem for anybody tired of paying their ISP $10/month more than necessary.
---
If your ISP charges you a modem rental fee, you drop what you're doing immediately and buy a Motorola SB6141. You can pick one up today on Newegg for $82, which is a decent price on its own, but you can bundle it with a free router if you know the proper promo code. I should note that the router is $15 by itself, so if you own something nicer, you might not have any use for it, but you could always sell it for a few bucks on Craigslist. Just put the modem in your cart, add the code, and the router will be added automatically.
---
Open Box Apple Airport Extreme | $130 With Promo Code SPRING14

---
Grab Steam versions of both Final Fantasy VII and Final Fantasy VIII today for just $5 each. Hit up Newegg and use code EMCPGHP84 to claim your prizes and ride off into the sunset on a Gold Chocobo.
Final Fantasy VII ($5) | Newegg | Use code EMCPGHP84
---
The SSDs you find in modern laptops are fast, but still a little smaller than most of us would like. If you own a Mac, this handy adapter set will let you use any MicroSD card to add some extra storage via your SD card slot, without an unsightly piece of plastic sticking half an inch outside of your computer. The pack comes with three, so you can even share with your friends and family.
You will need a MicroSD card to go with this, but Amazon has a good price today on this 64GB Transcend model.
---
Never be stuck without a spare USB port while traveling again.
---
This dock transforms one Thunderbolt port into an ethernet port, HDMI, three USB 3.0s, two 3.5mm audio jacks, and two extra another Thunderbolt port, all for an all-time-low $165 today. Crucially, it even includes a Thunderbolt cable to get you started, which normally goes for $40 on its own.
---
If anything in your house takes batteries, you should have a supply of Eneloop rechargeables handy. This 2-pack of AAs will supplement your collection, and even comes with spacers that let you use them in any pesky gadgets that take D batteries.
If you don't have any Eneloops yet, we recommend starting with the Eneloop Power Pack, which is backordered by a few weeks, but available today for an all-time low $34.
---
Today on Amazon, you can take $20 off a Kindle or Kindle Paperwhite, bringing prices down to just $49 and $99, respectively.
Note: You don't have to trade in an old e-reader to get the discount. It's available to everyone.
---
Chuck your drawer full of old, slow flash drives and upgrade to USB 3.0 on the cheap today, courtesy of Staples and Amazon.
---
Outdoor lovers won't have to worry about keeping their gadgets juiced up with this solar charging pack, available for $75 today from Woot. Even if you don't think you'll need your phone while camping, having a basically unlimited power supply should bring you peace of mind if something were to go wrong and you needed to contact the outside world.
---
In addition to looking like something out of TRON, these MEElectronics headphones sound great too, if the 4.8 star review average is any indication.
If earbuds are more your style. Best Buy has a great sale on SOL REPUBLIC Amps buds, today only.
---
---
The Panasonic Arc 4 finished second in Gizmodo's ranking of the best electric razor, and today represents a rare chance to score it for under $100 on Amazon. The step-up Arc 5 model is also on sale today, and adds an extra blade, multi-flex pivoting head, and an automatic cleaning and charging system.
---
Storage
Power
Headphones
Home Theater
TVs and Projectors
Media Players
Phones and Tablets
Computers
Displays
Input
Networking
Sound
Photography
Apps
iOS
Android
Windows Phone
Entertainment
Books
Gaming
Apparel
Home
Fitness
Inventory
---
This post is brought to you by the Commerce Team, a dedicated group of deal hunters and product enthusiasts. We operate independently of Editorial to bring you the best bargains every day, share our favorite products with you, and ask you about yours. When you buy something we recommend, we may also get a small share of the sale. We welcome your questions and want your feedback.