Upper Manhattan-dwelling New Yorkers have been complaining for years that supertalls are going to ruin the views from their beloved Central Park. Here's a very good solution: lower the elevation of the park.
The annual eVolo Skyscraper Competition consistently delivers some of the wackiest concepts for tall buildings we've ever seen. I particularly love the way this year's winning proposal, named New York Horizon, subverts the competition's intentions completely. Instead of designing a whimsical tower, Yitan Sun and Jianshi Wu propose excavating Central Park just enough that the skyscrapers around it fade into the distance.
The new, lower Central Park would be 100 feet below street level, just enough to remove New Yorkers from the urban experience. The perimeter would be surrounded by mirrored glass that would vaguely remind park-users that they were in the city, but mostly just reflect the terrain around them.
G/O Media may get a commission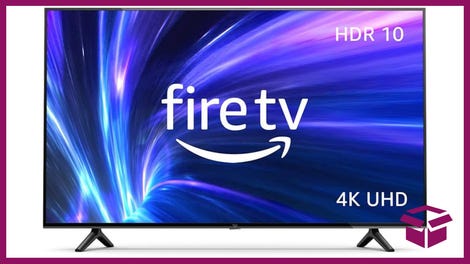 42% Off
Amazon Fire TV 50" 4K Smart TV
Besides adding legitimate hills, rock climbing areas, and swimmable lakes, the design also calls for the same basic types of hiking and jogging trails you have in Central Park today. (That said, the terrain looks a bit more rugged, which isn't very promising for the future of the city's contested horse carriages.) Of course, all that dirt currently in the park will have to go somewhere—so the designers propose using it to add mini-mountains to underdeveloped plots all over Manhattan.
Remember that all of Manhattan once looked more like this—It was a rugged, bedrock-strewn landscape that had to be heavily sculpted and filled just to look somewhat park-like. In that way, the plan returns the park to its natural state. Giving the park a more dramatic landscape would allow you to feel like you've not only escaped the city, but also traveled through time, while only being a few steps from the subway. The supposed shadows from the supertalls wouldn't really be any match for the glorious rock formations before you. You'd probably forget they were there entirely.

[eVolo]