Welcome back to Toy Aisle, io9's weekly round-up of all the coolest new toys. This week we've got a truly spectacular Princess Leia figure, a double dose of Wonder with new Wonder Woman toys, some out-of-this-world cards, and a tiny version of the legendary Dragonzord from Power Rangers. Hide your wallets!

---
Hot Toys Hoth Princess Leia
Look, let's just get this out of the way: sure, the A New Hope dress and the Jabba's Palace bikini might be iconic Leia looks, but the unequivocal greatest look the Princess, General, and all-around hero wore in the Star Wars galaxy will forever be, in our eyes, the Hoth jumpsuit and braided hairstyle from Empire Strikes Back.

Hot Toys' sublime new 1/6 scale figure captures the dearly missed Carrie Fisher's likeness stunningly, and comes complete with a set of alternate hands so she can grasp the DL-17 blaster pistol she also comes with. All it needs is an alternative head of her let-down Bespin hairstyle and a Stormtrooper blaster, and all you'd have to do to turn Hoth Leia into Bespin escape Leia would be take off her outer jacket. [Hot Toys]
G/O Media may get a commission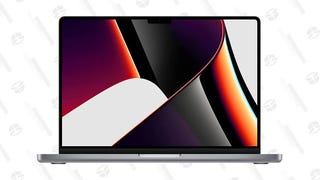 Save $300
2021 14" 1TB MacBook Pro
---
Fisher-Price Imaginext Wonder Woman Sets
Even with a Guardians of the Galaxy sequel hitting theaters today, it's a DC Comics movie, Wonder Woman, that promises to steal the summer. Fisher-Price's Imaginext line, featuring kid-safe action figure versions of their favorite superheroes, will be capitalizing on the film's popularity with three new sets including Themyscira Island ($25), Hippolyta and her Battle Chariot ($15), and Wonder Woman's iconic Invisible Jet ($15). Chris Pine's Steve Trevor is nowhere in sight, unsurprisingly. [Fisher-Price]
---
Directional Pad USB Hub
A stalwart of retro gaming, the four-way directional pad isn't as popular on modern game controllers, but can you imagine playing a side-scrolling Super Mario game without one? Obviously not. But this one isn't for gaming, it's an over-sized $15 directional pad USB hub from 8Bitdo that will charge three devices, using glowing arrows to let you know which device is drawing power. [ThinkGeek]
---
Neca 1/4 Scale Wonder Woman
Looking for a ginormous Wonder Woman figure in your life? Well, Neca's heard your cries with this 18" articulated replica of Gal Gadot's take on Princess Diana. Including her lasso, sword, and shield, Diana comes ready to guard your desk or shelf from any and all invaders when she hits shelves this November... although she might want to tilt her head down a bit to do so, considering how it looks like she's perpetually looking upwards. [Toyark]
---
NASA Space Playing Cards
Playing a few hands of Go Fish seems like a tragic waste of these gorgeous playing cards featuring intergalactic imagery from NASA accompanying each suit. The $13 deck also includes identifying titles for every image, so you might actually learn something while playing Texas Hold'Em, aside from a harsh lesson on the dangers of gambling. [ThinkGeek]
---
Super Mini-Pla Dragon Caesar
Sure, in Japan, this miniature plastic model might be known as Dragon Caesar, the mecha of Dragon Ranger Burai in Kyoryu Sentai Zyuranger. But in our hearts, it's the iconic Mighty Morphin' Power Rangers Dragonzord, one of the coolest dragon/robots ever.
This wonderfully detailed 6" model has to be put together, but when completed you've got your very own tiny Dragonzord to stomp around with. If you were lucky enough to get your hands on the Mini-Pla Daizyujin (also known as the Megazord)—which is now hard to come by and super pricey—this new model can combine with it to form the Mega Dragonzord, aka "those times the Megazord would wear the Dragonzord as a funny hat." Dragon Caesar will be out in July in Japan, for around $30. [Tokunation]