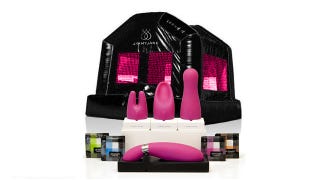 Key parties are as passe as water beds and unkempt nether regions. Who needs those sorts of cheap thrills when you've got an adult-sized bouncy room to go wild in?
The Block Party is a 15-foot cubed inflatable vinyl dome. It weighs only 235 pounds—for portability—and is completely waterproof—to ease in cleanup. There's no word on how many people it can safely support but I'm guessing more than two.
In addition, The Block Party comes with a Little Chroma vibrator, five interchangeable heads, and a sixty-pack of Sir Richard's condoms. You just need to supply an air compressor, a few willing participants, $4,000, and snacks. Seriously, what sort of host doesn't put out at least some finger sandwiches with company coming over? The Block Party is available at JimmyJane.
---
You can keep up with Andrew Tarantola, the author of this post, on Twitter or Google+.