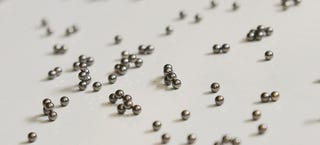 Buckyballs are a public menace that were recalled last year following a protracted battle with the US Consumer Product Safety Commission. The saga officially comes to a close this weekend. The deadline to claim a refund is January 17th.
Last summer, I reported on the fall of Buckyballs; how in a matter of years the magnetic toy sets went from wonderful novelty to public health hazard. The final settlement agreement between the CPSC and Buckballs' holding company created a $375,000 escrow to pay for refunds and the administration of a recall. That's not nearly enough money to cover the 2.5 million sets that were sold, but hey, it's something. If you want to claim your refund, click on this hyperlink to www.buckyballsrecall.com.
It's hard to say how successful the recall has been. I asked the CPSC how many claims had been filed, and I'm still waiting to hear back. At the very least, the CPSC action succeeded in getting the magnets off store shelves and away from the curious fingers of kids.
Update: The CPSC says there have been a "modest" number of claims. No numbers, yet, though.