The fact the set of Marvel's Agents of SHIELD is so quiet on a Wednesday afternoon is in direct opposition to the insanity of the show itself. We visited the Culver City set and there was nothing going on in Coulson's office. Fitz and Simmons' lab was silent and the common area was deserted. But on the show, which just got renewed for a fourth season, things are on overload.
Some spoilers ahead...
After Tuesday's episode, "The Inside Man," here's just some of what's currently on the table: The rebirth of the ultimate Hydra villain Hive, a looming Marvel event in Civil War, the discovering of a possible Inhuman cure, Coulson framed as a villain, a possible new spinoff series, the rise of the Secret Warriors, and the looming threat of the psychotic Lash.
"Here's the problem you guys, I've been asked a lot about these next couple episodes and I don't remember a lot of it," joked Chloe Bennet, who plays the Inhuman SHIELD leader Skye. "I'm just going to be completely honest. So much has happened since the one you saw last night that your pants will be filled with shit by the time we get done with this season."
We're almost there now.
G/O Media may get a commission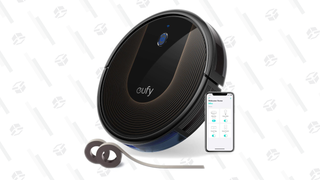 48% Off
Eufy BoostIQ RoboVac
Story wise, the biggest thing going on with SHIELD is that Brett Dalton's character, Agent Ward, has been killed and taken over by Hive, the personification of the symbol of Hydra. He's a mystical being that Hydra has been trying to bring to Earth for centuries—making him a super villain on a level that SHIELD has yet to see so far.
"He's the perfect villain for this show, because he carries with him the memories, desires, hatreds and agendas of Will and Ward," said Agent Coulson himself, Clark Gregg. "At the same time he's got a much deeper bigger agenda that's thousands of years old and gave birth to Hydra. The whole runner about what was on this planet and what it has meant to this multi-generational story of Hydra, I think, is insanely cool."
"We're huge fans of Brett and this was another way to give him a challenge," said show co-creator Jed Whedon. "He's been a baddie for a while and we thought it was a nice way to escalate this character." Executive producer Jeffrey Bell added this. "To be able to embody an antagonist with someone we already have feelings for, it's already loaded and interesting to us. So for Brett to embody whatever this thing is puts a face on it. It's much richer than 'Monster X.'"
Dalton himself, who seemed to still be recovering from the gooey birth scene that just aired but which he filmed weeks prior, agrees that his character has a much deeper role to play on the show.
"I don't know if I agree that he's a straightforward villain," he said. "He's certainly a reinvention of the character, but you will see he actually does have a philosophy about what the world could be, now that he's there. And it's quite inclusive, actually. It's not about taking over the world, and all that stuff."
Meanwhile, SHIELD is preoccupied with the Inhumans, who started out as ordinary people until they developed superpowers thanks to a process called Terrigenesis. There are Inhumans who are good, and ones who are bad, and that's going to be a major storyline moving ahead
"The days are coming where we will need to know [the exact whereabouts of] everyone who is Inhuman who has crossed our path," said Gregg. 'We'll need to know where they are, as we try to sort out if they're going to be friend or foe. That's our version of Civil War."
"The main challenge is learning about who we can recruit as the Inhumans continue to grow in numbers and who we might need to put down," added Ming-Na Wen, who plays SHIELD badass Melinda May. "Those are really tough decisions. So it's that and building up a new force."
One of the issues that's separating the Inhumans into factions is the fact that SHIELD geniuses Fitz and Simmons may have just discovered an antidote for their condition. But is it this a medical condition, or an awakening? Skye and Lincoln's debate about it in the most recent episode is just the start, according to Whedon.
"At the center of the show now is this question of 'If you could choose it, would you want to?' Would you choose to have this happen to you? Is it a choice? People who change, how do we treat them? Do they immediately have freedom to be who they want to be? Or is it a very dangerous weapon that we have to control or understand? That's a lot of what we'll talk about, moving forward forever, because that's the dynamic between regular humans and powered, enhanced humans."
That idea of creating a small army of Inhumans was the moment Agents of SHIELD went from being an ancillary story for the Marvel Cinematic Universe to its own beast, and that side track will continue moving forward.

"What I love about what the writers have done is, rather than wait for something to cross over from one of the movies, they just exploded Terrigenesis around the world, and set up Secret Warriors, and set up an Inhuman outbreak—that's different, frankly, from what's in the comics that I ever read," said Gregg.
But they can't totally avoid the movies. One of SHIELD's first major shifts was after SHIELD itself was disbanded in Captain America: The Winter Soldier. With a third Captain America movie coming in May, Civil War, things are expected to change again.
"It will definitely have a ripple effect," said Whedon "It's one world, so if there's a giant event, there will definitely be a ripple effect on the world."
Even so, Gregg still feels those events will be heavily weighted against the world SHIELD has built for itself.
"At such time as ever Coulson has to deal with what's going on in the MCU, it's going to depend what has happened here between now and then, because here is where his focus is," he said. "I suspect that this world, where there are Inhumans, is here to stay. That's a development that's happening in our part of this world, and it seems like there's a lot of stuff to play with here. I suspect that'll be the world we live in now, and also I'm afraid the way that's going to tear us apart has probably only begun to be seen."
One way the team is actually getting divided is by the launch of another show. Two of SHIELD's main characters, Bobbi Morse (Adrianne Palicki) and Lance Hunter (Nick Blood), are making a pilot for a potential spinoff show called Marvel's Most Wanted.
"We hope that one day they'll have their own show, but while they're on SHIELD we want to take advantage of who they are," said Bell. "Give the audience as much of their relationship with one another, and other people, as possible, to make that really satisfying. We are aware there is a potential imminent end, so they won't be neglected."
With a renewal for season four, the team is excited to start developing more stories—and more mysteries—for the longer term.
"In our heads there's always more coming and you have to plan for it," said Whedon. "So even if [the season 4 announcement] hadn't happened early, we have to work as though it's coming. But it does give us confidence. It allows us, as we're setting stuff up, do it with a little more confidence."
And if Bennett is right about us pooping our pants later this season, that seems to be well on its way.