Last week, Heather Bresch, the CEO of Mylan Pharmaceuticals, testified in front of Congress about why the company has raised the price of EpiPen from roughly $57 in 2007 to $600 today. Under intense questioning, she claimed that the company only makes about $100 per 2-pack of EpiPens. Today the company was forced to "clarify" that the price was actually higher. They make $160.

Bresch spent a good deal of her time testifying last week by explaining that even though the price of the EpiPen is $600, that entire price doesn't go straight to Mylan. It was a rather offensive and obtuse show, with Bresch attempting to explain that those who distribute and manufacture the product also get a cut. But Congress, much like the public, were curious just how much of that money was going straight in Mylan's pocket. Bresch said it was just $100. Which was a lie.
The Wall Street Journal pressed Mylan about the actual profit they make on the EpiPen. And after much needling, the company has now "clarified" that they actually make $160. The reason that Mylan said it only makes $100? Apparently they took out the US tax rate of 37.5 percent. But as the Wall Street Journal explains, that doesn't make any sense.
From the Wall Street Journal:
Mylan's explanation left some analysts scratching their heads.
The 37.5% tax rate Mylan applied to EpiPen "has nothing to do with reality," said Ryan Baum, an analyst with SSR Health LLC, a health care investment-research firm in Stamford, Conn., because the company didn't pay that much tax on the product. Mylan had a low 7.4% overall tax rate last year, he said, and a negative effective tax rate in the U.S. where the EpiPens were sold.

"That implies this notional ($100) profit figure also has nothing to do with reality," Mr. Baum said. He added that Mylan executives have the discretion to present financial figures any way they want, but "good behavior would be to document your figures in a more transparent manner."
G/O Media may get a commission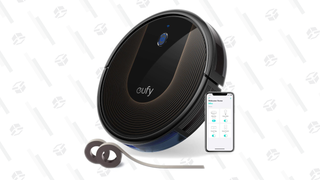 48% Off
Eufy BoostIQ RoboVac
So yeah, Mylan lied to Congress. But the company insists that any "lack of clarity wasn't intentional."
Teva hopes to release a generic EpiPen, but that product won't be ready until late 2017 or even 2018. Mylan plans to release their own generic of the EpiPen soon for $300, and as Bresch admitted, there will be absolutely no difference between the brand-name product and the generic. Only the name will change, showing just how pharma marketing works in this country.
As Republican Congressman Jason Chaffetz pointed out during the hearings, Mylan will probably wind up making even more money per unit on the generic since they'll be selling that product direct. What a time to be alive.
Update, 3:12pm: Congresswoman Tammy Duckworth, a Democrat from Illinois, has become the first politician to make a statement about the CEO of Mylan lying to Congress.
"Given Mylan's callous disregard for children with severe allergies underscored by recent outrageous and indefensible EpiPen price hikes, it's not surprising their CEO would also show such callous disregard for the truth, even when under oath," Duckworth told Gizmodo in a statement.
"One thing is clear: the American people deserve access to lifesaving medications they need in emergencies," Duckworth continued. "The American people deserve better than companies like Mylan who put profits before people."