Back in the mid-1970s, legendary filmmaker Alejandro Jodorowsky tried to make a movie of Frank Herbert's Dune, featuring people like Mick Jagger, Orson Welles and Salvador Dali, with designs by H.R. Giger and Chris Foss. It would have been astonishing, whether or not it lived up to the book. Now, a new documentary tells the story of that failed enterprise.
The documentary Alejandro Jodorowsky's Dune just premiered at Cannes, and apparently it's spell-binding.
Salon raves:
I don't hope to see a movie at this festival, or all year long, that's as inspiring as Frank Pavich's documentary "Jodorowsky's Dune," the story of an enormously influential film that was never made. That may sound strange on a number of levels: How does one of the most famous collapsed productions in cinema history, a failure so dire that it derailed its director's career for many years, become a source of inspiration? Especially when the resulting documentary largely consists of a man in his 80s sitting around and talking? Well, when the old guy talking is as brilliant, passionate, ferocious and hilarious as Jodorowsky, and when the stories he tells convince you that his quixotic dream of making an enormous science-fiction spectacle that combined star power, cutting-edge technology, philosophical depth and spiritual prophecy nearly came true, it's as if you glimpse his vision of a transformed world where everything is possible.
And Variety adds:
Pavich does an admirable job tracking down surviving parties (except for the suspicious-sounding cast), opting for a humorous rather than indignant tone to the interviews. In shaping them for the film, he happens upon a compelling theory: that even in its still-born form, the film manifested the sort of collective conscious that Jodorowsky was trying to peddle through its plot, trickling down to influence other sci-fi films that followed. The evidence presented regarding details George Lucas may have stolen for "Star Wars" is unconvincing, though O'Bannon, concept artist Chris Foss and Giger did go on to collaborate on "Alien," extending a relationship that started with "Dune."
G/O Media may get a commission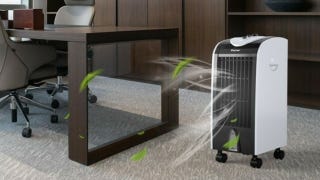 Save $10
Evaporative Portable Air Conditioner Cooler with Filter Knob
And it sounds like you get a pretty good sense of how the film would have gone, including storyboards and brief animated sequences. But Dune purists probably won't be pleased. According to The Hollywood Reporter:
Never troubled by anything resembling modesty or irony, Jodorowsky claims that he planned Dune as "the most important picture in the history of humanity". In one of many unwittingly comic slips, he freely admits he never even read the novel and happily rewrote the ending: "I was raping Frank Herbert," he grins, "but with love." ... However unreliable a narrator Jodorowsky may be, this documentary does a service to film history by making his lavish storyboards public, and even bringing some alive with brief animated sequences.