This year's Gen Con gaming convention featured a murder mystery, a demonic siege, record attendance and a truckload of exciting new releases that had gamers buzzing. Here are some of the coolest things from Gen Con.
Image via Gen Con Facebook
Gen Con is North America's largest tabletop gaming convention, and almost 50,000 unique attendees showed up this year. That's almost 20% growth from last year, which makes me wonder if the con is in danger of outgrowing its current form. There's plenty of room in the Indianapolis Convention Center, but the exhibitor hall was noticably more crowded this year, and on-site hotel rooms are notoriously difficult to come by. There might have to be some rearranging and expanded shuttle service to surrounding hotels if the pace of growth continues. It's certainly a good sign for the gaming industry in general.
Wizards of the Coast was notably missing from the exhibitor hall this year. They still had a major presence, but they set up their spectacular dungeon walls and Lolth statue in the gaming hall, concentrating all their action in one place. They traditionally don't announce anything related to Magic: the Gathering at Gen Con (though they ran plenty of tournaments), so D&D was their main focus.
G/O Media may get a commission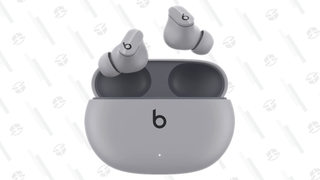 On Thursday night they held an event called "A Night with D&D." It was preceded by a press event that was very nice, but a little odd since they didn't have much to announce aside from a few games being released on mobile platforms and updates to D&D licensed video games. Mike Mearls, head of D&D R&D, did announce that the open beta playtest for the new edition of D&D is ending, although there's a significant amount of development left before it will be released. There was also a giant cake celebrating the 25th anniversary of everyone's favorite ubiquitous drow, Drizzt.
The public party was a lot of fun, and despite the lack of major announcements it gave fans a chance to hang out and get things signed by five out of the six Forgotten Realms authors working on the big Sundering novel event (Only Paul S. Kemp was absent). After a genuinely funny intro, a murder occurred and clues were placed all around the theater where the party was held. The clues took the form of a large and complex logic puzzle – whoever solved it first won a replica of the sword wielded by Sundering hero Isteval.
Meanwhile, the convention floor was stocked with thousands of dice and hundreds of spectacularly painted minis. Games Workshop was on hand with this impressive set piece.
Bombshell Miniatures had a display of their recent Bombshell Babes Kickstarter, as well as minis from their sidekicks line.
Dwarven Forge had a reduced presence this year, showing off examples of the new dungeon terrain from their extremely successful Kickstarter campaign. These terrain pieces are made of a hard rubber and are much less expensive than the cast resin pieces Dwarven Forge is known for. All reports indicate things are going smoothly and remain on target for the planned October ship date. If it seems like I know a lot about this, it's because I'm eagerly awaiting my own shipment of dungeon terrain.
Not all Kickstarters go well — a prime example is the Doom That Came to Atlantic City. It successfully funded, but one of the publishers spent all the money and failed to create a product. Cryptozoic grabbed this one from the jaws of defeat, taking what was complete and finishing the product on their own. They'll send the game to backers at no extra expense, hoping to recoup the cost by selling the game in the future. Adam Sblendorio of Cryptozoic. showed off this version of the game, noting that the playing pieces are not in their final forms and the released version will be quite a bit more deluxe.
The game is a sort of Cthulhu Monopoly, except you play Elder Gods trying to control properties so you can open gates to other dimensions and destroy the world. There are a lot of puns. For instance, you can draw "Chants Cards."
Asmodee was demoing a dexterity game called Rampage about giant monsters wrecking cities. I'm not sure if it's directly based on the classic arcade game, but it's certainly inspired by it. Players move their monsters around the city, flicking tokens and throwing trucks. You stomp buildings by literally dropping your monster onto them, and you can use your monster's firey breath by putting your chin on its forehead and blowing at the city. The tiles and wooden people are just light enough to collapse at a good huffing and puffing. I managed to catch a mid-stomp action shot.
There was, of course, the usual abundance of geek t-shirts and replica weapons. A company called Valyrian Steel stood out with their collection of licensed Game of Thrones replicas. While their products are made from fiberglass (greatly reducing the price), they had some prop weapons from the series on display as well.
Not all the action happened in the main exhibit hall. Mayfair Games set a world record for the most players in a single Settlers of Catan game, with over 900 people playing at once. Later, approximately 1,000 gamers (including me) participated in the Siege of the Diamond City, a massive Pathfinder RPG event. Players from levels one to 15 were sorted into tables, each with their own GM. As the game went on, players moved to different parts of the city. Organizers tracked how many teams beat their encounters in which city zones, and giant screens showed our progress and the presence of the demonic threat attacking the city. It was about an epic an RPG session as you can imagine, and it was a blast.