Musikmesse is Europe's premier annual music trade show, and tech companies were there in force last week to debut their latest kit. Today we separate the great from the good to show what your favourite bands will be using in the future - are we looking at Bjork's next musical plaything in the AlphaSphere, above?
First, a nod to this year's big industry announcement: Propellerhead is opening its popular Reason software to developers, which is kinda like when Apple opened the App Store to homebrew developers. It's great news for beatmakers, but this is The Giz and we like hardware best. So what gear was turning heads at Musikmesse this year?
---
AlphaSphere
It might be one big rolling gimmick, but the AlphaSphere still has the right blend of technical power and originality to be a hit. Every pad acts like a drum, for which you can assign any sound you want with dedicated software. It's like a hang drum for a new generation, and while you wouldn't fire your drummer for one, it's a surefire way to make sure an audience remembers you. [AlphaSphere]
---
Pioneer Steez Audio Type S
G/O Media may get a commission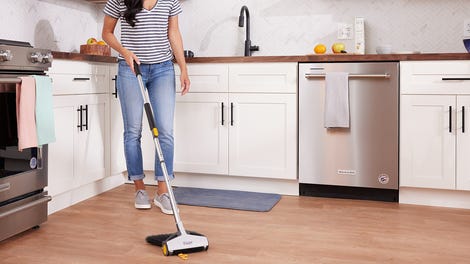 BOGO 50% Off
Flippr - BOGO 50% Off
If I chased my dreams of being a world-class breakdancer, this boom box with dedicated 'Auto Battle Mode' would top my shopping list. It picks a playlist like magic, then automatically edits tracks and tempo so you can spin like a windmill in a heartbeat. It even echoes the same section of a song for when your rival hits the stage—and when you win, it can ride on your shoulder as you moonwalk into the sunset. [Pioneer]
---
Endeavour Evo
If Apple made keyboards, it would make the Evo. This sleek, minimal design might fool you into thinking it runs short on features, but every key is touch-sensitive for added musical expression. For example, you could slam down a chord then slide your hand forward to make it roar, or jam out a solo and add guitar-style pitch bends on the fly. Did we mention it looks hot? [Endeavour]
---
Alesis iO Mix
The iPad wields some serious music production software, but it's always been difficult to import your own recordings to work with. That's why we love this new gadget from Alesis. Just slot in your iPad and you can record from four microphones at once, tweaking as you go with a tactile set of studio controls. The Beatles recorded all their classic albums to a four track recorder - now you can too. [Alesis]
---
Our newest offspring Gizmodo UK is gobbling up the news in a different timezone, so check them out if you need another Giz fix.