Two years ago Dyson used its expertise in pushing air to create a premium hair dryer that was absurdly expensive, but, in our testing at the time, surprisingly worth the investment. Today the company is announcing its first follow-up to the Supersonic: a new styling tool called the Airwrap that replaces the skin-searing metal surfaces of a curling iron with hot air moving through brushes and other attachments that are much safer to use.

We've had less than an hour with the Airwrap thus far, and while we're worried it may require additional tools to style every kind of hair, we're also extremely impressed by what we've seen so far. This thing feels like it could be a few leagues ahead of most of the other styling products available right now
The Airwrap styler looks very similar to Dyson's Supersonic hair dryer. It features the same intake at the bottom of the handle, with a similar button layout near the top. They even basically do the same thing: blast cool, warm, or hot air at varying intensities using the V9 digital motor that Dyson originally developed for the Supersonic. But while Dyson's hair dryer is purpose-built for quickly drying your locks, the Airwrap features three different types of swappable tools designed to style your hair instead.
G/O Media may get a commission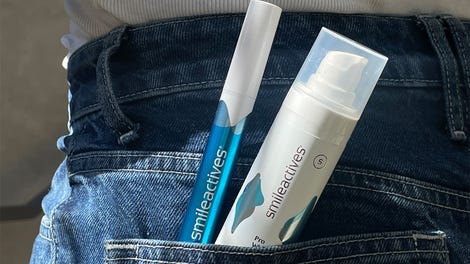 58% off
Whitening Powerhouse Pen & Gel Duo
It's basically a total blowout in one device. Because the device channels hot air directly through a set of soft, firm, or round brush attachments, users don't have to use both hands to juggle a separate brush and hair dryer while smoothing or volumizing their hair. And in true Dyson fashion, the Airwrap's brush attachments have been over-engineered with an automatic switching mechanism that changes the direction of the airflow based on the tension a user's hair exerts on the brush's bristles. The end result is a warm flow of air that always matches the direction of the user's hair and motions, creating more volume, or producing a straighter finish, depending on which of the three brush heads is used.
The Airwrap's most innovative feature, however, is a set of 30-millimeter and 40-millimeter barrel attachments designed to be used as curling irons. But instead of using metal plates that get hot enough to melt hair (or adjacent skin) if you're not careful, the Airwrap's barrel attachments pipe hot air through a series of aerodynamic vents that create a phenomenon called the Coanda effect.

In layman's terms, it creates a cyclone of air that wraps around the barrel with enough pressure to suck hair around the barrel as well, creating curls as the hair is dried with the warm flow. The Coanda effect only works in one direction, however, so Dyson includes two versions of each barrel that each wrap hair in a different direction, creating mirrored curls on each side of your head—though in our experience either curler create a great look with minimal fuss.

Dyson stopped by the Gizmodo offices to show us how the product works, and we'll admit that we were impressed when we tried it on fairly typical white woman hair. The hair instantly wrapped around the barrel, and our model, video producer Eleanor Fye, had princess curls in under ten minutes. The brush attachment seemed equally as magically, quickly straightening out her thick, long, and wavy hair while giving it just a little volume. Impressive as Eleanor has quite a bit of hair.
Dyson declined to style our second model, who has black hair, specifically type 4B. This means she has very thick hair with very kinky curls. Black hair usually requires the application of more heat than white hair if straight hair is the desired result. Over time, high heat can be very damaging hair, so a product like the Airwrap seems, on paper, like a great option. It straightens the hair and produces big stylized curls with less heat. Unfortunately the Airwrap, according to Dyson, may require additional tools and time to accomplish the same look on type 4 hair, and the company did not feel comfortable styling her hair given the limited time we had and the lack of other tools.
It leaves us with a conundrum because by all other accounts the Airwrap seems like a very magical product—the kind most people with a lot of hair will covet or even invest in. We were impressed when we saw it in action, but we'll need to test it on many other hair types before we can say it's as magical as it first appears.
And you'll want to know if the Airwrap works on your hair before buying, because, as with most of Dyson's offerings, the Airwrap styler is definitely a premium accessory for your morning routine. The cheaper versions, the Dyson Airwrap Volume + Shape and the Dyson Airwrap Smooth + Control, which each include smaller collections of the attachments, are $500 each. The Dyson Airwrap Complete, which comes with everything, will set you back $550.