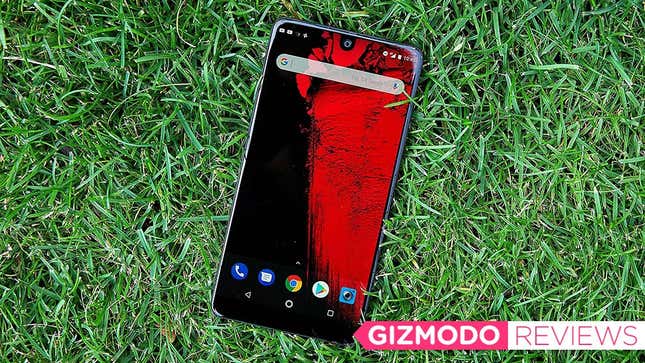 In August 2017, Andy Rubin, the creator of Android, and his disciples at Essential Products descended onto this mortal plane to grace us with the PH-1—a device that seeks to right the wrongs of modern smartphone design. Almost monolithic in appearance, the PH-1, or the Essential Phone as it's more commonly known, is forged from a combination of titanium and ceramic meant to withstand the rigors of daily living without needing to be shrouded in ugly plastic cases. OK, let's get real, there's a lot of hype behind the phone, but is all that hot air really warranted? Ummm, no.
Vizio's Latest TVs Go All Quantum
But it is pretty striking!
Just look at the way the PH-1's LCD screen curves around the front-facing camera. It's the essence of form following function and its impressive 85 percent screen-to-body ratio tops even that of the Galaxy S8. The PH-1's good looks are pretty subtle though. "I messed around with the Essential Phone for three minutes and I wasn't that impressed," said Gizmodo editor-in-chief Kelly Bourdet. "But then I picked my iPhone 7 back up and thought, 'What is this piece of shit?'"
Yet looks can only take you so far.
The problem with simplicity is that unless you absolutely nail the execution, the end result can feel lackluster. The display is a good example. I appreciate that the PH-1's LCD screen is exceedingly bright with a peak output of around 700 nits, that's brighter than even the best AMOLED-equipped phones, including the Galaxy S8—which tend to top out at around 550 nits.
But the Essential Phone's display isn't quite as colorful, and its black levels aren't that great either. Anytime you watch videos in a dark room, you're going to have to put up with annoying dark gray borders because the display can't get as black as the bezels. On top of that, outside of the PH-1's home screen, the phone doesn't always take advantage of its extra widescreen 19:10 aspect ratio, which leaves more awkward, unbalanced black bars around any video you watch. And unlike other phones with exaggerated displays like the LG G6 and Galaxy S8, the Essential Phone won't automatically adjust content to fit or let you force videos to fill up the screen.
The phone is missing a lot of pieces in service of minimalism: There's no headphone jack, microSD card slot, wireless charging, or water-resistance. Without these features, the phone is more frustrating to use on a daily basis, not less. For all of Rubin's talk about improving smartphone design, the PH-1 doesn't really deliver, and its single bottom-mounted speaker sounds pretty mediocre too. I do want to give Rubin and Co. props for stepping up the materials game with titanium and ceramic. However, nothing is invincible and even minor drops will still leave marks.
One thing I'm happy to report though, is that the Essential Phone has pretty solid battery life. Initially, I was a little worried that the PH-1's 3040 mAh battery was too small to keep its 5.7-inch screen up and running for that long. But my concerns were unfounded. Its standby power efficiency is excellent, as it routinely lost just 2 or 3 percent battery charge overnight. And on our battery rundown test, the Essential Phone's time of 9:39 was almost half an hour better than the Galaxy S8's time of 9:12.
And all this is coming from a Qualcomm Snapdragon 835 chip, 4GB of RAM and a 128GB of storage, which is more than enough to deliver a swift and responsive smartphone experience. You also get a delicious bloat-free version of stock Android 7.1, as one would expect from the original creator of Google's ubiquitous mobile OS. Furthermore, the company says upgrades to Android 8 Oreo are due out soon, which if true, will be more than most Android phone makers can say.
There's one place, however, where Essential really drops the ball and it's infuriating: the camera. I'm beginning to lose track of how many camera updates Essential has sent out over the last week. Out of the box, the PH-1 didn't even have the ability to take HDR photo, which was later remedied by Essential's first over-the-air hotfix. But now, three or four updates later, taking pictures with the PH-1 is still agonizing.
Image quality is generally fine in bright light, though pics from the Essential Phone still show a lack of sharpness and dynamic range when viewed side-by-side next to shots from the Galaxy S8. And at night, the PH-1 is terribly inconsistent, often capturing a series of dark, blurry and unusable messes. Even on the rare occasions where everything goes right, photos from the PH-1 are still behind what you get from everything else in this price range.

This is especially annoying as the PH-1 has two 13-megapixel cameras versus the S8's lone 12-MP shooter. And its not like you are getting an optical zoom lens or fancy depth of field effects as with dual cam phones like the iPhone 7 Plus or Huawei P10. In fact, there's barely any customizable settings at all. Aside from the mode dial that lets you choose between auto, monochrome and slow-mo modes and the row of icons on top for toggling things like HDR and flash, the only other settings you can change are for toggling the shutter sound and location recording on or off. There's no manual settings to adjust, filters or extra shooting modes that every other flagship phone offers. And if you like shooting in HDR, every time you open up the camera app, you have to enable it again, because your settings don't get saved. And changing pretty much any setting takes a few seconds, so don't even think about launching the camera and taking pics with any sort of haste.
But the absolute last straw is the Essential Phone's painful shooting speeds. You tap once to shoot, get nothing, tap a second time, realize you still haven't taken a shot, tap again to no end, check out the spinning circle in the bottom right wasting your time, try again just in case, and then several seconds later you can hit the shutter button one last time in case you're really feeling lucky. There were even a few times where a warning message popped up saying "Failed to take photo. Please try again."
All I want is to take two pics back to back! And simple as that seems, it's just not reliable. Taking photos with the PH-1 is some of the least confident photography I've experienced, which is crazy, because a good camera is one of the most important features on a phone.
When reached for comment about the camera performance issues, an Essential Products spokesperson said, "There is another OTA coming soon that should address reports of camera laggyness and image quality." If there are dramatic changes, we'll update this review.
The PH-1 was never going to be the revolutionary product Essential Products promised. But it could have been a stylish new flavor to help balance out the two-note duopoly that we get from Apple and Samsung. I can only hope that Essential continues to iterate on its camera software and fix the PH-1's broken photography. Otherwise, the Essential Phone might just end up as a case where beauty isn't much more than skin deep.
README
Gorgeous titanium and ceramic design.

Solid flagship specs and stock Android 7.1.

Doesn't have a headphone jack, microSD card slot, wireless charging or water-resistance.

One of the most disappointing camera experiences on a phone in recent history.

SPEC DUMP
Android 7.1 • 5.7-inch 1440p LCD display • Qualcomm Snapdragon 835 processor • 4GB of RAM • 128GB storage • rear fingerprint reader • dual 13-MP rear cameras • 8-MP front camera • 1 x USB-C port • 3040 mAh battery
Update 8/30/17 9:23pm ET: After requiring Essential phone customers to provide their drivers' licenses over email to verify their shipping addresses—and then accidentally sharing that information with other customers—Rubin has issued an apology and explanation of why the company issued an invasive request for private data, the Verge reported.
"Yesterday, we made an error in our customer care function that resulted in personal information from approximately 70 customers being shared with a small group of other customers," Rubin wrote. "We have disabled the misconfigured account and have taken steps internally to add safeguards against this happening again in the future. We sincerely apologize for our error and will be offering the impacted customers one year of LifeLock."