This summer has already set temperature records around the nation, and we're still in the dog days of August. With money tight, and temperatures high, there's a temptation to test out unconventional ways to beat the the heat. But these odd home remedies can end up wasting energy and costing more money. Here's how to know what really works when you want to keep cool for cheap.
Myth: Cranking the thermostat lower will make the house cool faster.
Usually not. Trane and Lennox make some nice variable speed air handlers, which can adjust their output to match demand. But most homes' units have just a single fan speed—on. As such, the house's temperature will always adjust at a fairly set rate. Cranking the thermostat to 60 to take a shortcut to 70 doesn't make a difference—the hot air moves at a set rate of speed. By undercutting the desired temperature, you're simply wasting an extra 10 degrees worth of energy and money.
Myth: Turn off the A/C while you're out.
If you're out all day with the A/C off, it takes a lot of work for a central A/C system to bring a hot house down to the desired temperature. Yet it's even more wasteful to keep it running for eight hours. The answer is to invest in a programmable thermostat, which can let the house warm through the day, then gradually lowering it to the right level before you return. Adjust the temperature up 7-10 degrees F while you're away, and a programmable thermostat can still save you up to 10 percent on your annual heating bills. Reduce the demand on the system by closing curtains before you leave, to block the afternoon sun while you're gone.
G/O Media may get a commission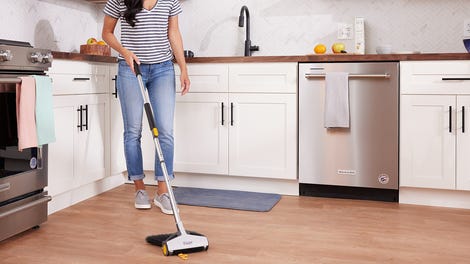 BOGO 50% Off
Flippr - BOGO 50% Off
Myth: Run ceiling fans to keep empty rooms cool.
Ceiling fans work by generating a wind chill effect, not by lowering a room's temperature. Essentially, they cool people, not rooms. That's not to say that fans aren't effective at lowering your cooling bills—in fact, using ceiling fans in conjunction with an A/C will allow you to comfortably raise the air conditioner's setting by several degrees. But, just like the lights, you should turn your ceiling fans off when you exit a room.
Myth: Closing vents on a central air system will boost efficiency.
This seems logical, but it can actually end up costing you a lot. Some sophisticated, super-efficient homes can effectively divide into zones of HVAC control. But most modern central air systems are balanced to distribute air throughout an entire house. So if you randomly close a register, the system keeps cooling and pumping without delivering the cool air to a usable space. You're basically paying to keep the inside of your A/C ducts frosty. The compressor/condenser can cycle too frequently, putting additional strain on the system, leading to accelerated wear and tear. And for all the damage, it's not actually saving any energy. If you have a big house and you only want to keep a single room cool, consider a ductless mini-split air conditioner, or a basic window unit.
Myth: Air conditioning is the only way to keep cool.
We have it nice in America in 2012, but ubiquitous A/C is hardly the worldwide norm. People cope. And their strategies can come in handy. When managing editor Brian Barrett's A/C went out earlier this summer—in Alabama—he and his wife and dog hunkered down in the basement, a padded layer of carpet separating them from the cool concrete floor. A caveat from Barrett: "That only works if your basement's not too creepy." Editor-in-Chief Joe Brown, on a trip to Zambia some years back, received a set of damp sheets as he checked into his evening's lodgings. "It's so hot, the water in the sheets evaporates," Brown says. "By the time you wake up, nothing is wet." And features editor Harry Sawyers, as a kid at SEC college football games and on sweltering Georgia campouts, learned to grab a piece of ice from the cooler, wrap it in a rag, and move the melting cube from wrist to wrist. "Then you just wring the melted ice water out of the rag, right down your neck. It's country, but it works."
How do you optimize your system's performance—or beat the heat without A/C? Wipe the sweat off the keyboard and let us know.
[TXU - WKU - Consumerist - Horizon Services - SCE Home Energy Advisor - CUB Energy - DoE 1, 2, 3 - Robert Pernell / Shutterstock]