Love it or hate it, Samsung's Galaxy Note is the original ultra-big smartphone, a style that even Apple has finally adopted. It's also Samsung's ultimate productivity tool, complete with a capacitive pen and specific software to take advantage of the ginormous screen. Now, the fifth iteration of the Note has arrived.
But this isn't the same Note we saw last September. There's more glass, less fake leather, and no removable back. Though some may see that last item as a dealbreaker, the Note 5 tries to make up for it with an improved design and new software you'll actually want to use.
Here are the four things you need to know about the new Note 5.
The Note 5 Has a Great New Design (Kind Of)
The Note 5's design is a lot like when a friend buys a used car — "it's new to me, all right?" The Note 5 pulls a lot of design influence from the Galaxy S6, and to be more specific, the S6 Edge. However unlike the Edge—which we felt was like holding a normal phone but backwards because of its front-sloping screen—the Note 5 puts the curves on the back keeping the 5.7-inch quad HD display a plain old flat panel, which makes sense if you ever want to use that handy S-pen.
The materials are also different. Last year's Note 4 was more akin to the Galaxy Alpha than the S5, but the Note series realigns with the S series and ditches the faux leather and goes all Gorilla Glass 4 (on the front and back) with aluminum along the sides.
G/O Media may get a commission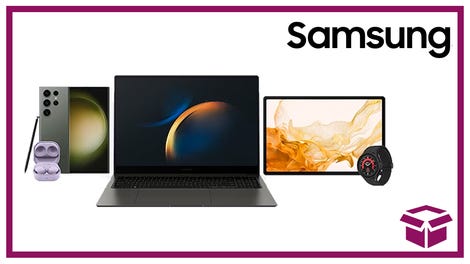 24 hour deals
Discover Samsung - Daily Deal
Speaking of the aluminum siding, the sloping glass back makes those sides pretty thin, so the Note 5 isn't exactly the most comfortable phone I've ever held, but also not the worst. Aside from that, the obround hardware button is still there with the requisite biometric sensors packed inside.
Basically, the Note 5 screams premium, which makes sense. Since HTC seems dethroned from its position as THE maker of jewelry-grade Android smartphones, Samsung is more than happy to fill the gap.
Samsung Pay Actually Seems Useful
Mobile payments are a tricky thing. Apple, Google, and bunches of smart card startups have tried their hands at abolishing the credit card—and it just isn't working. But Samsung Pay might be the most convincing attempt yet, and it's all because of one little acronym: MST.
It stands for Magnetic Secure Transmission. MST, in conjunction with normal NFC, means Samsung Pay can be accepted at tap-to-pay terminals and also POS units that use magnetic stripe technology. Instead of swiping a card, you place the Note 5 near the terminal and bam! You just bought some shit.
Samsung also seems to have put a lot of forethought in designing a system you'll actually use. Instead of unlocking your phone, hunting for the app, and paying. You can now swipe up from the bottom of the screen—whether the phone is off, locked, or unlocked—to bring up a carousel of credit cards (see GIF above). Select the one you want to use, identify with your fingerprint, and you're good to go. The service will be in beta in the U.S. this August and will go live September 28.
The S-Pen Is Better Than Ever
The Note's stylus has surprisingly remained one of its most defining features, and Samsung has been improving its functionality slowly over time. This time around, the pen-specific software gets two major upgrades. First, when you pop out the S-pen (which is now spring-loaded) and the phone is turned off, the action will immediately launch a bare bones note-taking application. So if someone is firing off a phone number at bar or you need to make a quick note during a meeting, just pop the pen and write. The note can then be saved to S Note. It would be waaaaay cool if you could tie this functionality to Evernote or even OneNote, but right now it's only a proprietary feature.
The second upgrade is Screen Write, a screen capture and scroll feature that is built to be more mobile friendly. If I wanted to take a picture of the excellent front page of Gizmodo dot com right now on my Nexus 6, I'd have to screenshot, scroll, screenshot, scroll onto forever. With the new S-pen feature, I can simply capture, scroll, capture, scroll, etc., and the image will preserved as a long vertical image that I can zoom in and edit with the spring-loaded S Pen in the gallery whenever I want. Neat!
Also, did I mention the pen is now spring-loaded? It's spring-loaded.
The Note 5 Embraces the Livestream Generation
New in the Note 5's camera app (as well as the S6 Plus) is a Live Broadcast feature, tied directly to YouTube livestreaming, that lets you record and post to YouTube simultaneously within the stock camera app. After tying your YouTube account to the app, Live Broadcast generates a URL you can share with friends on any social media platform, or contacts on your phone. You have the benefits of private livestreaming similar to FaceTime, plus the benefits of the social streaming of Periscope. Also, while you're streaming, YouTube allows for instantaneous commenting as well as a dashboard to check your internet connection and other settings.
Livestreaming interface on the new S6 Plus
It's not quite as easy to use as the simple button press in Periscope and Meerkat, but the interface is much nicer. And you can shoot in landscape. Bonus.
And with the S6 camera packed in...it's pretty nice.
The Note 5 isn't exactly jam-packed with features that make it a must-have successor to the previous Note 4, but during my half hour or so with the smartphone, it's the first Note I've ever wanted to keep using.
I have a feeling I won't be the only one.
It's...
...spring-loaded.
The new Note 5 next to the Galaxy S6 Edge
The Galaxy Note 5, which you just read about. Thank you for your time, and have a nice day!
Galaxy Note 5 Specs
Network: AT&T, Verizon, T-Mobile, Sprint, U.S. Cellular

OS: Android 5.1(Lollipop)

CPU: Exynos 7420 processor, 64-bit octo-core

Screen: 5.7-inch 2560x1440 Super AMOLED (518 PPI)

RAM: 4GB

Storage: 32GB/64GB

Camera: 16 megapixel rear camera / 5 megapixel front camera

Battery: 3,000 mAh

Dimensions: 5.40 x 2.68 x 0.27 inches

Weight: 6.03 ounces

Colors: Black Sapphire and White Pearl
Price and Availability: In stores August 21 (pre-order at 3pm Aug. 13), will be announced by carriers and retailers specifically (Note 4 launched around $800 off-contract)
Video and images by Michael Hession.