Today at WWDC, Apple gave OS X a design overhaul that's just as huge as its namesake. Yosemite is bright, sharp, and flat as hell. But while OS X now looks more like iOS, iOS and OS X are also more alike than ever. Apple is finally—finally—establishing a consistent design language across its platforms.
OS X Yosemite is more than an operating system. It's an unassuming little manifesto, a set of graphic standards that will likely guide the development of the next decade of UI design at Apple. You might be disappointed that we didn't get an iWatch or iPhone 6 today, but Yosemite gives us a glimpse at the interface design that will guide all those forthcoming future product releases.
But first, let's look at how iOS and OS X are borrowing from the other.
OS X Looks More Like iOS...
A Jony Ive-designed OS X looks just like we expected: First of all, the shadows, textures, and graphic noise of OS X are gone. Any linen-cloaked remnants of the Scott Forstall-era of Apple design have been scrubbed clean in favor of razor-sharp corners, pared-down textures, and poppy colors that match the radical design approach of iOS 7.
And for the first time in its history, Apple is seemingly changing its OS typeface. Gone is the familiar Lucida Grande that's been with us for decades. Say hello to Helvetica Neue, which arguably makes even more sense from a legibility perspective on computer screen than an iPhone screen.
G/O Media may get a commission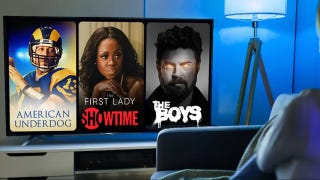 UNDER $1
99¢ Prime Video Channels
The revamped Notification Center also borrows the look of iOS, with a transparent background and a slide-over command that looks far more like something you'd find on your iPhone than what you'd find on your computer. The dock that holds all your apps have been replaced by a flat, transparent pane of grey, too. And what about the app icons themselves? Yep, they've been flattened, scrubbed, and simplified.
All these changes will feel very familiar to you if you're a fan of iOS, right down to the beautifully transparent responsive materials used throughout interface. But this isn't a one-way street.
...While iOS and OS X Share More Features Than Ever
Today's unveiling of iOS 8 proves that Apple's mobile operating system is acting working together with its big brother better than ever, too, sharing apps and services that were once silo'd into one device or the other.
The biggest change? Handoff, the awesome-sounding feature that loops your iPhone, iPad, and computer into a single ecology of activity. Texting someone on your iPhone is now the same as texting someone on your computer, you can now call someone using your computer just like the way you would on your iPhone. The functional differences between your devices are getting smaller and smaller.
Likewise, the strict application silos that annoyed so many iOS users for so long are crumbling. You can now respond to messages without having to leave the app you're running. It's not split-screen functionality quite yet, but it's hard to imagine that's not far behind. The same goes for the new Photos app, which hugely increases editing capabilities, on par with what you'd be able to do with your computer.
The same goes for other new app updates, including Extensibility, which will finally let your apps talk to each other outside of Apple's strict sandboxes. More and more, you can use your iPhone and iPad to do exactly the same stuff as you could on your computer, and your Mac and iPhone can talk to one another more intimately than ever.
And Both Are Finally Speaking the Same Language
Underneath all these seemingly iterative changes, we can detect the outlines of Apple's future. Bringing its two divergent platforms under a single umbrella is way more important than it might seem.
By creating a consistent language between mobile and computer-based platforms, Apple is setting up a vocabulary for a while new wave of products. This is what Dieter Rams called a programm: A set of rules that stay consistent across all sorts of products. It's something that Apple has always excelled at. It built its reputation its incredibly popular Snow White design language in the 1980s, and it has always struggled when it lacked a unified one. When Apple parted ways with Steve Jobs, frog design, and Snow White in the late 80s, it underwent a "dark ages" of meager design and confusing product launches.
It's been way too long since Apple had that kind of consistency across its products. In fact, it was Scott Forstall's dismissal that threw it into a protracted state of transformation. Now, it's getting down to the business of establishing a single design language that can support current and future products alike.
For now, OS X and iOS are two distinct pieces of software. But in the future, the boundary between them may start to crumble. There's a whole bevy of new product categories on Apple's horizon, from wearables like the rumored iWatch to a potential larger iPhone, or an iPad Pro that could bridge the gap between desktop and mobile computing. Today we saw an important step into a future that includes devices that don't quite fit into the OS X or iOS mold.
We've spent a lot of time analyzing rumors about Apple's next piece of hardware—but oddly enough, the biggest hint might be hiding in its software.