And perhaps more importantly, Groot is adorable. I mean seriously, you might be distracted by the giant tentacle monster space battle going on at first, but look at that little face in the bottom left. Oh my god.

James Gunn just revealed this new concept art from Guardians of the Galaxy Vol. 2, making its debut in the latest issue of Empire Magazine, and it's totally rad:
We have an inkling as to how this fits into Guardians of the Galaxy Vol. 2, thanks to our recent chat with Elizabeth Debicki at San Diego Comic-Con. Debicki told us that her character, Ayesha, actually hires the Guardians as allies to fight a giant monster, only for things to go wrong very quickly:
She enlists the Guardians to help her fight a sort of galactical beast. They're this sort of ragtag bunch of people but they happen to be very good at getting rid of things and cleaning up the universe, in a way. So she enlists them and it's all going swimmingly until it all turns very very sour. Let's just say it goes from amiable to not-so-amiable quite quickly.
G/O Media may get a commission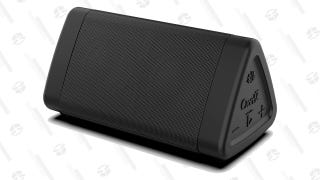 Save 31%
Oontz Angle 3 Portable Bluetooth Speaker
It looks like could well be the "galactical beast" she was describing. The Guardians' relationship with Ayesha might go sour fast, but you know what will forever stay amiable? Baby Groot's dazzling smile.
Guys, we thought the first Guardians movie failed to capitalize on the adorableness of Baby Groot the first time round. Maybe they were just waiting for the day when the eldritch pact James Gunn and Marvel studios made to the elder gods was finally completed, allowing them to weaponize cuteness as the most potent force on the planet. This is that weapon.

Guardians of the Galaxy Vol. 2 hits theaters May 5th, 2017.