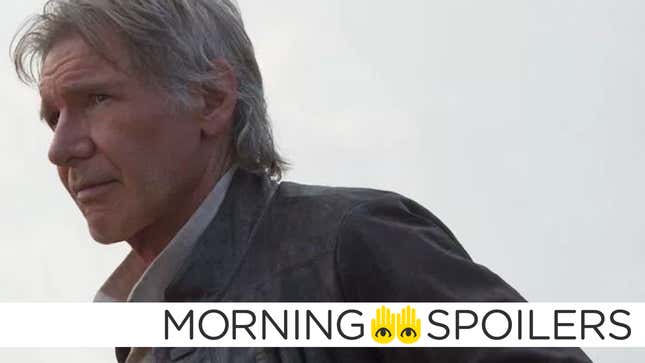 Meanwhile, Ewan McGregor is still happy to return for a hypothetical Obi-Wan film. Amazon's Philip K. Dick anthology finds some cast members. Ryan Murphy wants Jessica Lange back in American Horror Story. Plus a bunch of new clips from Guardians of the Galaxy Vol. 2. Spoilers Now!

The Boogeyman's Sophie Thatcher Reveals What Draws Her to Dark Characters | io9 Interview

Han Solo
Warwick Davis reveals a new animatronic alien—that kind of looks like a Star Wars Gran crossed with a Dungeons & Dragons Beholder—from the set of the film. Wait for it, though, because he's also doing a bit.
---
Obi-Wan Kenobi Anthology
Meanwhile, Ewan McGregor would like you to know (again) that he's sitting there, waiting patiently for a call from Lucasfilm, any day now.
There's no official offer, and I haven't met them about it or anything. But I've always said that I'd be happy to do it if they wanted to do it. It would be a good segue between the last episode of the prequels and the new episodes. I think they've got films to make until the 2020s, so I don't think it's going to happen soon if it happens at all.
[EW]
---
Spider-Man: Homecoming
Martin Starr finally revealed a few details about his character, and his thoughts on Homecoming in general, to The Wrap.
I'm the academic decathlon coach and one of the teachers at the school so I have a bit of a thing in it… It's capitalizing on popularity and a story that's very rich and dense, so there's a lot left to tell. And this isn't a familiar take on it — this is a unique kind of take of a younger Spider-Man trying to figure out life again…The story has a lot of action and fun in it, but it's also a sweet, coming-of-age story of a kid.


---
Jurassic World 2
At a press junket for Guardians of the Galaxy Vol. 2, Chris Pratt described the Jurassic World sequel to Screen Rant as "scarier" and "darker" than the first.
I think it's going to be a scarier version. A little bit darker and will continue to expand and carry the story forward in a way that is really unexpected and you wouldn't have imagined.
---
Avatar 2, 3, 4 & 5
Zoe Saldana confirmed to Screen Rant she begins filming the four Avatar sequels this summer.
We haven't shot it yet. Anything I can tell you about Avatar 2,3,4,5? We're going to start this summer. Late summer, and it's probably going to go all the way until early next year shooting, and I'm really excited about it.


---
Escape Plan 2
Dave Bautista told Screen Rant that the frankly unexpected sequel to Escape Plan will be "completely different" from the first film:
It's got me and Sylvester Stallone in it, yeah! (Laughs) I can tell you this. It's completely different than Escape Plan one. (Laughs) So if you saw Escape Plan one and you were a fan or weren't a fan, it's a completely different route. It's a different vibe, a different look. Obviously, I'm coming in and filling in the gap Arnold left, and you know, I am no Arnold Schwarzenegger, but then again, I am no Arnold Schwarzenegger. (Laughs) So there's a completely different chemistry between Ray Breslin and myself, my character, and a good chemistry. I mesh well with Sly.
---
Guardians of the Galaxy Vol. 2
Gamora and Star-Lord dance together in a new clip.
A second clip shows Drax leaping into the alien monster's maw from the beginning of the film.


---
Kingsman: The Golden Circle
New pictures of Taron Egerton and Channing Tatum appear in the latest issue of Empire.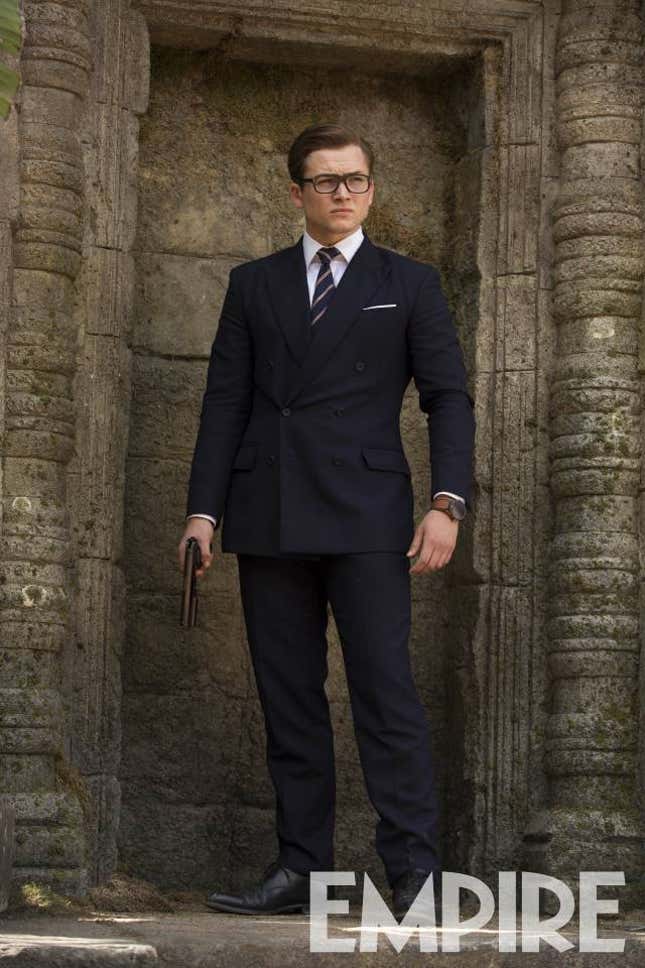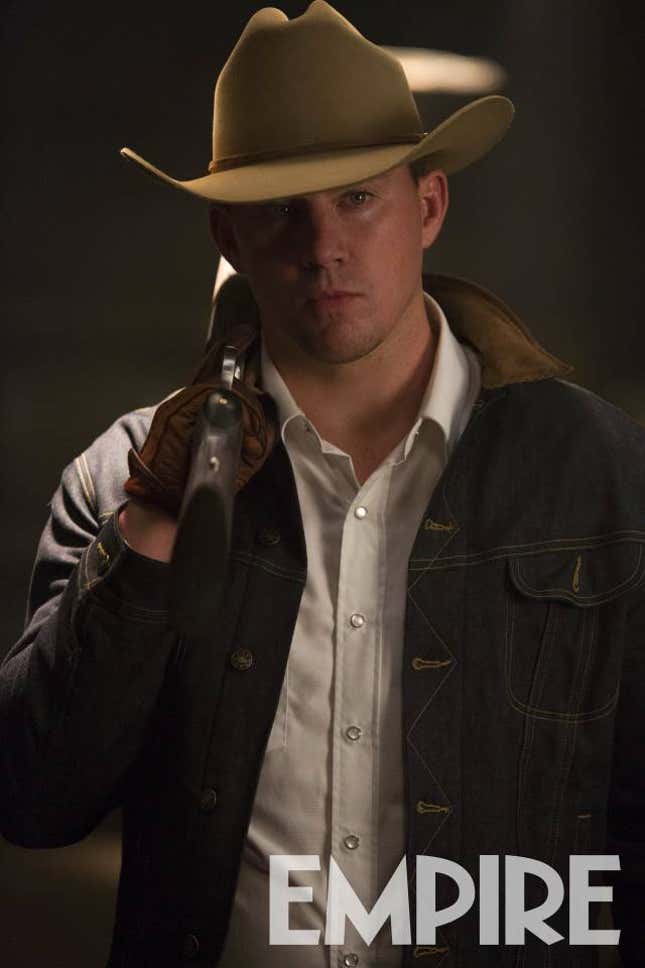 ---
Pirates of the Caribbean: Dead Men Tell No Tales
The dead have taken command of the sea in a new TV spot.


---
Electric Dreams
Steve Buscemi will star in an episode of the Philip K. Dick anthology series called "Crazy Diamond," written by Toni Grisoni and directed by Marc Munden, in which the beloved character actor gets romantically involved with a synthetic woman.
Meanwhile, Greg Kinnear and Mireille Enos are also starring in an adaptation of The Father-Thing, written and directed by Hot to Trot's Michael Dinner. [Variety]
---
American Horror Story
Ryan Murphy would like Jessica Lange to return for his in-gestation Murder House/Coven crossover season.
I think she would if I bribed her enough, you know? I haven't really talked to her about it at all because we are still figuring out that story, but I think we do want to do that.
[TV Guide]
---
Fear the Walking Dead
Coming Soon has a new poster that chillingly reminds us all there's a spooky skull in our heads, covered in blooooooooood.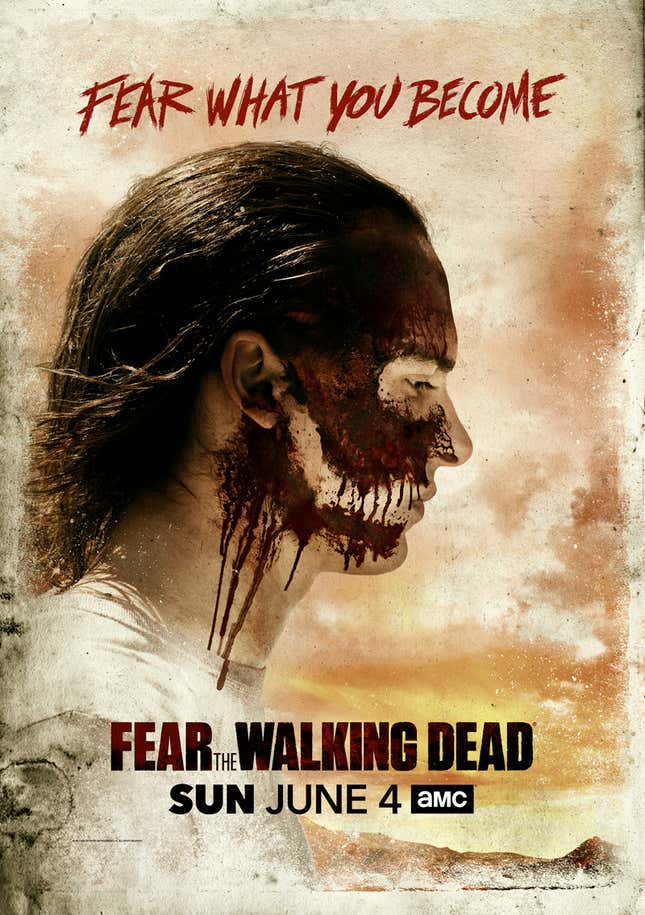 ---
Bates Motel
Finally, here's a trailer for the series finale of Bates Motel.
---
Additional reporting by Gordon Jackson. Banner art by Jim Cooke.