After 16 years, the best-selling Harry Potter books are finally ditching the beloved, iconic, and not-actually-all-that-good cover art by Mary GrandPré. Scholastic has hired Japanese artist Kazu Kabuishi to redo them, and you can see the new, much-improved cover for Harry Potter and the Sorcerer's Stone below. Said Kabuishi regarding his concept for the illustrations:
"As an author myself, I tried to answer the question, 'If I were the author of the books - and they were like my own children - how would I want them to be seen years from now?' When illustrating the covers, I tried to think of classic perennial paperback editions of famous novels and how those illustrations tend to feel. In a way, the project became a tribute to both Harry Potter and the literary classics."
In case you don't remember, here is GrandPré's original:
And here's is Kabuishi's new cover:
As you might have guessed, I prefer the new version, but rest assured Kabuishi is deeply honored to have his good work replace the not-good classics.
"The Harry Potter covers by Mary GrandPré are so fantastic and iconic. When I was asked to submit samples, I initially hesitated because I didn't want to see them reinterpreted! However, I felt that if I were to handle the project, I could bring something to it that many other designers and illustrators probably couldn't..."
G/O Media may get a commission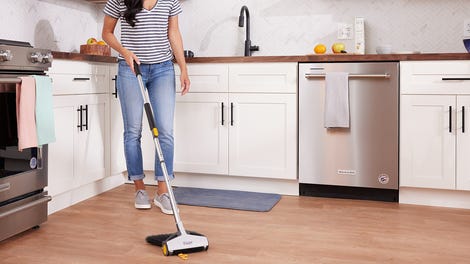 BOGO 50% Off
Flippr - BOGO 50% Off
Presumably the "something" Kabuishi is referring to is "quality."
[Via Comic Book Resources]