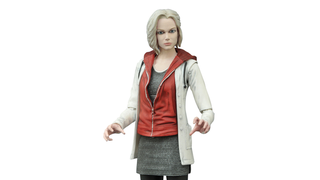 iZombie was a pleasant surprise when it debuted on the CW earlier this year, but the most pleasant surprise of all? That we're getting merchandise for it—Diamond Select have announced they're bringing Liv and friends to the world of action figures, and Liv herself is coming with some pretty fabulous accessories.
Announced by Entertainment Weekly, Liv will kick off an entire line of iZombie figures from DST, 7"-scaled to fit in with the rest of their Marvel and DC figure lines (yes, you'll be able to put Live next to The Flash and the Arrow for the ultimate DC/CW figure display). While the face sculpt is a bit off for me, my favorite part of the Liv figure are the excellent little tidbits she comes with: An alternate hand holding chopsticks, and a little bowl of hot-sauce-covered brains and noodles.
Complete with wee little Coffee Cups and hot sauce bottles! Adorable. Liv also comes with a dirty pipe, presumably because it would be far too quaint to release an action figure who's only action is "eating spicy brain noodles" rather than "hitting something", but come on. There's no other action figure line that could come with accessories like this, and that's kind of awesome.
Liv will be available for preorder later this month, ahead of a late 2015 release for the figure.
[Via Toy News International]
---
You're reading Toybox, io9's blog for all things pop culture. From merchandise to awesome fan creations, TV recaps and critical commentary on the hot topics of the day, you can find it all here!