We've been looking forward to it for ages, but the crazy, colorful adventures of the Holograms are finally out this week. But that's not all in this week's new comics — there are time-traveling heroes, crabs that dare to turn, and the intriguing, bloody tale of two secretly superpowered teenagers. Let's dig in!
Dark Horse
Single Issues
Pastaways #1 - A group of time-traveling explorers inadvertently crash-lands in 2015, opening a rip in time that brings forth dinosaurs and ancient threats. But can they stop arguing about being marooned in the past long enough to defend the Earth? Written By:Matt Kindt Artist: Scott Kolins
Trade Paperbacks
Murder Book - This gritty collection of murder mysteries chronicles the rise and fall of killers and their victims. Written By: Ed Brisson Artists: Simon Roy, Various
G/O Media may get a commission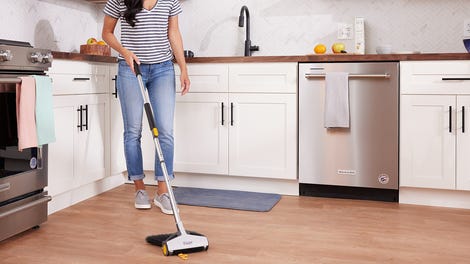 BOGO 50% Off
Flippr - BOGO 50% Off
DC Comics
Single Issues
Multiversity Ultra Comics #1 - The DC multiverse is under threat, and scientists have developed a new weapon to to combat the otherworldly threat... and it's the comic you're about to read. Written By: Grant Morrison Artists: Doug Mahnke, Christian Alamy
Collections
Batman '66 meets the Green Hornet - General Gumm and the Joker are on the loose, and the only way the Batman can stop them is by teaming up with the Green Hornet and Kato! Written By: Kevin Smith, Ralph Garman Artists: Ty Templeton, Various
IDW
Single Issues
Jem & The Holograms #1 - Jerrica Benton and her sister Kimber team up with their friends to become the fabulously stylish girl group Jem and the Holograms in this hotly anticipated reboot of the classic cartoon. Written By: Kelly Thompson Artist: Sophie Campbell
Miami Vice Remix #1 - The classic 80's adventures of Detectives Crockett and Tubbs are radically re-imagined and told anew. Written By: Joe Casey Artist: Jim Mahfood
Transformers Windblade Combiner Wars #1 - A new miniseries sees Windblade's homeworld ravaged by the combiners, setting into motion a huge new conflict for the Cybertronians. Written By: Mairghread Scott Artist: Sarah Stone
Trade Paperbacks
Anti-Hero - Rainer City's premiere superhero has his identity discovered by a low-level criminal — and when he's forced to acquiesce to the crook's demands to keep his family safe, he finds himself changing from superhero to supervillain. Written By: Jay Faerber Artist: Nate Stockman
Doberman - A legendary old-school detective leaves the force following a drug bust gone wrong, but comes back decades later, having to deal with a new world of policing as well as criminal threats. Written By: Scott Marder, Various Artist: Brandon McKinney
Collections
Weird Love: You Know You Want It - A collection of weird, bizarre, and just plain creepy vintage romance comics. Written By: Joe Gill Artists: Various
Image
Single Issues
Mice Templar: Night's End #1 - Mice Templar's final story begins in a new miniseries, as the world is torn apart by war — but without the leadership of Mouse King Karic, who is fighting on who's side? Written By:Brian J.L. Glass Artist: Victor Santos
Trade Paperbacks
Low Volume One: Delirium of Hope - Humanity has fled to the depths of the ocean as the Sun's radiation threatened to destroy the surface world, probing into the stars to look for a new home. Written By: Rick Remender Artist: Greg Tocchini
Roche Limit Volume One - An almost-abandoned colony on the edge of a mysterious anomaly is rife with crime. But when a young girl goes missing, her sister's search through the depths of the criminal underworld uncover a secret that could bring about the end of humanity itself. Written By: Michael Moreci Artist: Vic Malhotra
Wayward Volume One: String Theory - Rori Lane tries to begin a new life in Tokyo with her mother, but dark supernatural forces sense a mysterious power in her, prompting Rori to try and discover it before these mysterious entities destroy her. Written By: Jim Zub Artist: Steve Cummings
Collections
Big Hard Sex Criminals - The first 10 issues of Matt Fraction's bizarre series about a couple who can freeze time when they orgasm are collected in this plus-sized hardcover. Written By: Matt Fraction Artist: Ziggy Chooch
Marvel
Single Issues
Big Thunder Mountain Railroad #1 - Yes, the disneyland ride. Marvel takes you back in time to discover the legend behind the gold mine within Big Thunder Mountain. Written By:Mike Mignola Artist: Ben Stenbeck
Dark Tower: The Drawing of the Three - House of Cards #1 - The adaptation of the Steven King classic continues, as Eddie Dean, a man who can open doors into other worlds, finds himself under arrest and trapped in an airport filled with armed guards. Written By: Robert Furth, Peter David Artist: Piotr Kowalski
Trade Paperbacks
Hawkeye: Avenging Archer - Clint Barton finds himself reunited with this ex-wife, the returned Mockingbird. But can they set their feelings for each other aside to complete their mission? Written By: Jim McCann, Duane Swierczynski Artists: David Lopez, Various
Wolverine Origin II: The story behind the man who would become Wolverine continues, as Logan finds familial tragedy pushing him out alone into a harsh, unfamiliar world. Written By: Kieron Gillen Artist: Adam Kubert
Collections
The Amazing Spider-Man Epic Collection: Round Robin - Spider-Man finds himself facing off against the Tri-Sentinel once more, this time without the powers of Captain Universe to help him, necessitating a team up with Black Panther, Iron Man, and other Marvel heroes. Written By: Various Artists: Various
Others
Single Issues
Altered States: The Shadow (D.E) - This one shot "what if" story sees The Shadow's soul ripped out of time and space, finding himself transported into a mysterious and dark future world, where Mankind is no longer the greatest threat the Shadow faces. Written By: David Avallone Artist: Ivan Rodriguez
Hit 1957 #1 (Boom! Studios) -This Noir retelling of the LAPD's battle with the criminal underworld in 1950's Los Angeles continues. Written By:
Bryce Carlson Artist: Vanesa Del
We Can Never Go Home #1 (Black Mask Comics) - Two teenagers with secret super powers find themselves on the run and unable to return to their small home town following a series of tragic events. Written By: Matthew Rosenberg, Patrick Kindlon Artist: Josh Hood
Graphic Novels And Collections
Graphic Novels
Big Hero 6 Volume One (Yen Press) - The first part of an adaptation of last year's Animated superhero movie, revolving around a young boy who's older brother vanishes, leaving behind a humanoid medical robot the boy upgrades into a new superhero. Written By: Haruki Ueno Artist: Haruki Ueno
Fracture Volume One: Altered Egos (Action Lab) - Lower Triton's greatest hero, it's greatest villain, and an average guy named Jeff discover a shocking secret: they're all the same person. Can Jeff stop his alter egos from killing each other and wiping them all out? Written By: Shawn Gabborin Artist: Chad Cicconi
Insurrection: Liberty (Rebellion/2000 AD) - When a mining colony renames itself and secedes from the Big Meg, the SJS is brought in to crush the insurrection before it spreads to other colonies Written By: Dan Abnett Artist: John Mueller
Just So Happens (Abrams Comicarts) - Having left Japan for London, Yumiko has made a new life for herself — until the death of her father brings her back to her homeland to be immersed in the rituals of death and life in Tokyo once more. Written By: Fumio Obata Artist: Fumio Obata
Karneval Volume One (Yen Press) - Two young men are thrown together when they are framed for a crime they did not commit, finding themselves on the run from the most powerful defence agency in Japan.
Masked Volume One: Anomalies (Titan) - In a near future, a soldier returns home to find his city infested with a growing number of sentient robots that begin attacking humans.Written By: Serge Lehman Artists: Stephane Crety, Various
Peter Cannon: Thunderbolt (D.E.) - Peter Cannon is a world-famous author, but also happens to be the superhero Thunderbolt. A problem, since he is no fan of the fame he has found. Can he balance his life and keep the world safe from enemies that threaten to shatter the peace Peter has created? Written By: Alex Ross, Various Artists: Jonathan Lau, Pete Morisi
Collections
The Tragedy Series Volume One: Secret Lobster Claws and other misfortunes (Griffin Books) - The webcomic collecting sepia-toned vignettes of unfortunate tragic scenarios is collected in a new collection for your schadenfreude. Written By: Ben Dewey Artist: Ben Dewey
Doctor Who: The Tenth Doctor Volume One - Revolutions of Terror (Titan) - The Tenth Doctor finds himself with a new companion and a mysterious new consipiracy to solve. Written By: Nick Abadzis Artist: Elena Casagrande
March of the Crabs Volume One: The Crabby Condition (Boom!) - For centuries, crabs have moved from side to side. But when a handful of daring crabs decide to turn for the first time in their lives, there could be major ramifications for the human race. Written By:Arthur De Pins Artists: Arthur De Pins
Sally of the Wasteland (Titan) - Sally finds herself fighting giant mutant crawfish/crocodile hybrids as she treks across post-apocalyptic Lousiana in search of her wannabe boyfriend. Written By: Victor Gischler Artist: Tazio Bettin
World War X Volume One: Helius (Titan) - In the near future, humanity discovers idols on the Moon and deep underground on Earth warning of a deadly threat to their world, but the idols inadvertently awaken the monstrous creatures intent on eradicating humanity in a war they are not prepared to fight.
---
Want to see what else is out this week? You can see the full list here - and find out where your nearest Comic Book Store is here!