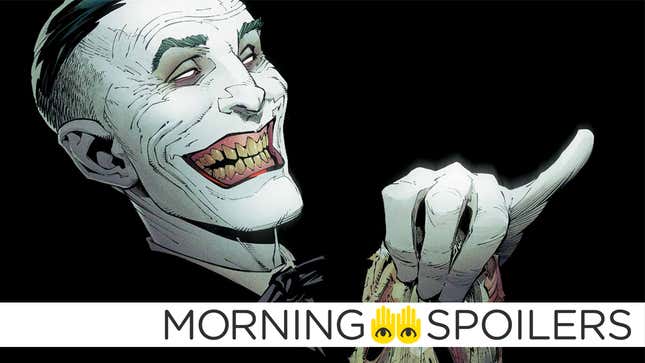 Frozen 2 could be casting some very interesting stars. Get a closer look at Aquaman's Fisherman King. Doom Patrol has cast another of its main heroes. Plus, tons of new looks Halloween, The Purge, Venom, and Bumblebee, and a sneak peek of The Chilling Adventures of Sabrina. Spoilers now!

Meet Microsoft's New Surface Laptops



The Joker
The Wrap's Umberto Gonzales alleges that Frances McDormand has passed on playing... the Joker's mother?
---
Frozen 2
Variety reports Evan Rachel Wood and Sterling K. Brown are in talks to join the voice cast of Frozen 2 in undisclosed roles.
---
Artemis
Screenwriter Geneva Robertson-Dworet (Tomb Raider, Captain Marvel, Dungeons & Dragons, Visionaries, Silver & Black) is now set to adapt Andy Weir's follow-up to The Martian for the big screen. [THR]
---
Godzilla: King of the Monsters
In a recent interview with Entertainment Weekly, director Michael Dougherty described Rodan as a "winged A-bomb."
Rodan's been kind of a sidekick character, but I've always had a soft spot for him... In a lot of ways he's more powerful than Godzilla. He's like this winged A-bomb. I think we've done him justice.
---
Aquaman
Entertainment Weekly has an exclusive photo of Djimon Hounsou (recently cast in Shazam!) as The Fisherman King.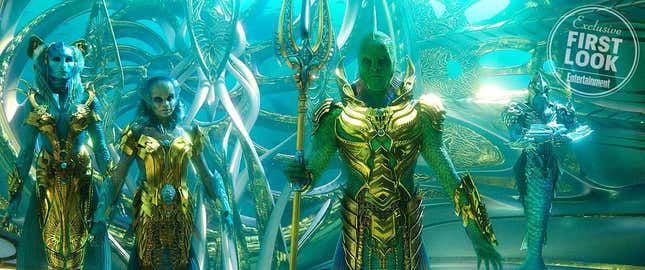 ---
The Meg
Two new international posters from Coming Soon reveal the Megalodon's eating habits and some very funky looking submarines.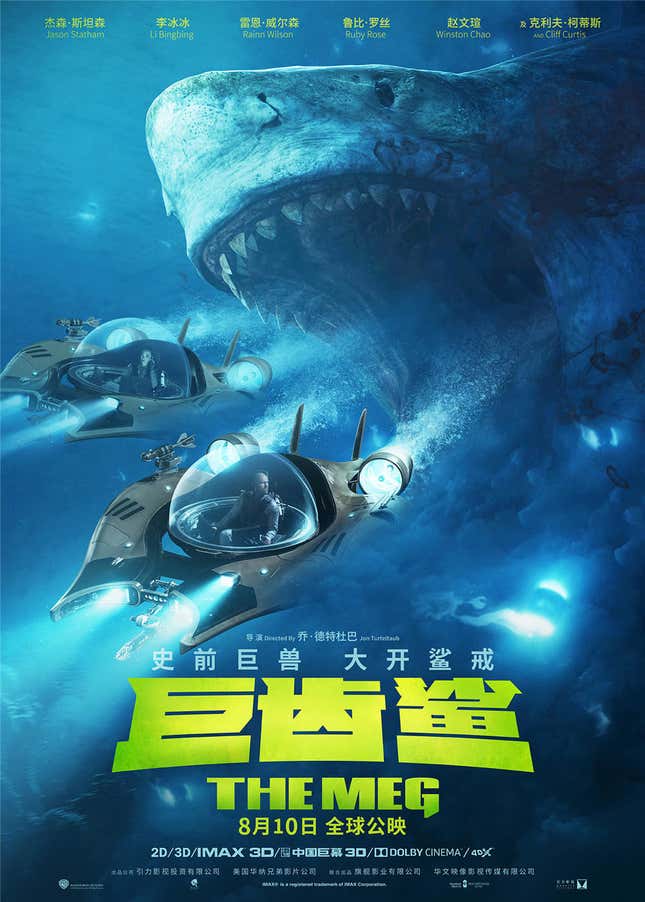 ---
Bumblebee
Entertainment Weekly has our first look at Shatter (Angela Bassett) and Dropkick (Justin Theroux), two of the film's three Decepticon characters.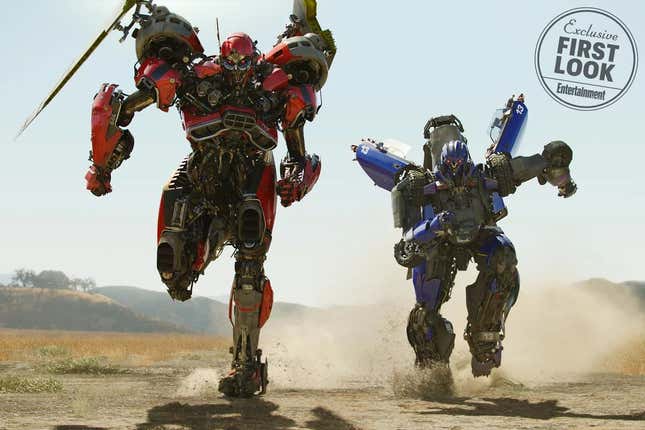 ---
Venom
Entertainment Weekly also has two images from Venom.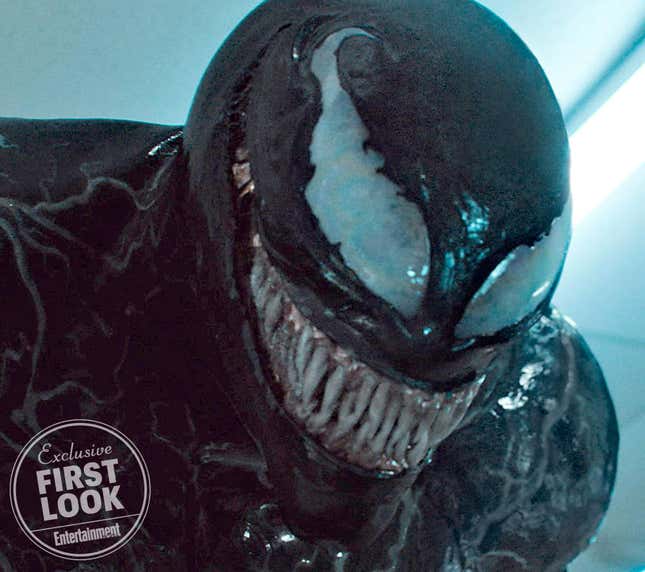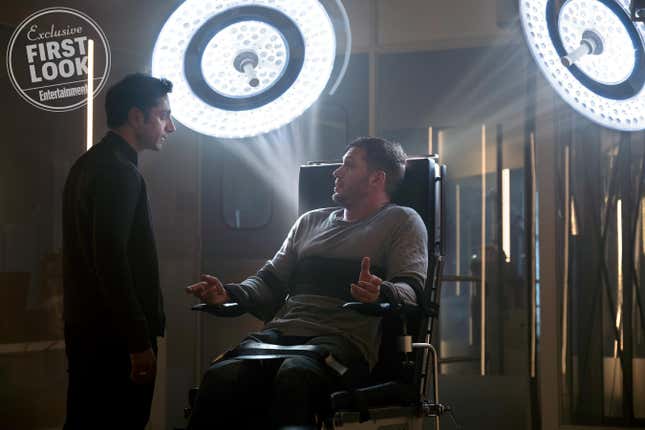 ---
Halloween
And look, it's Michael Myers in another image from Entertainment Weekly.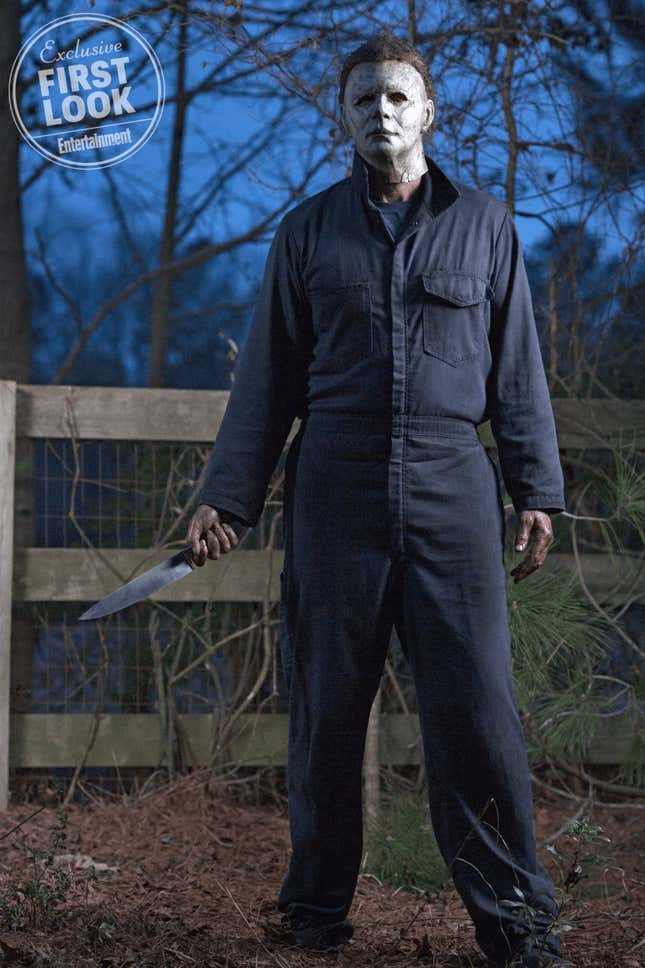 ---
Christopher Robin
Here's a very awkwardly posed poster from Coming Soon.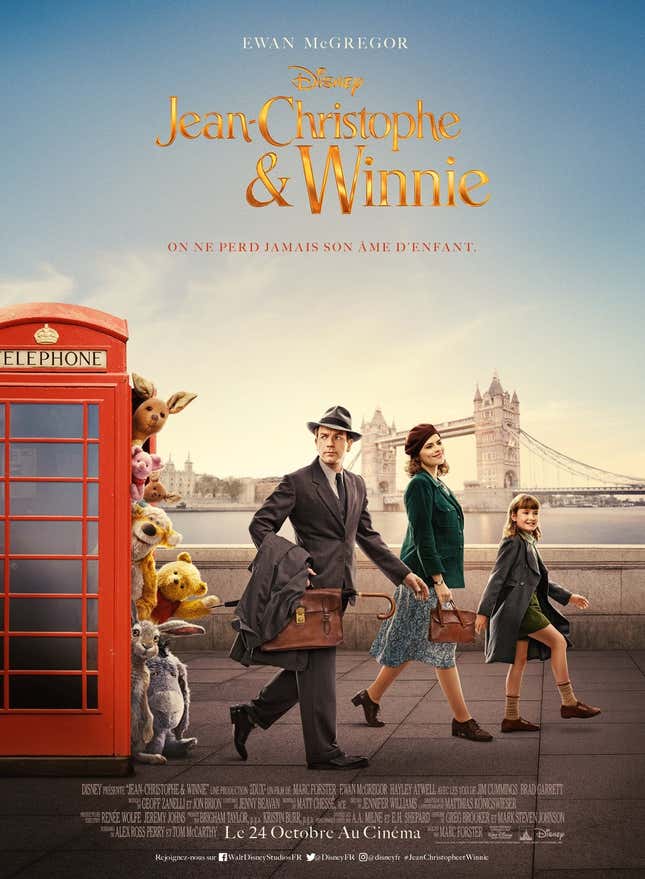 ---
Doom Patrol
April Bowlby has joined the cast of Doom Patrol as Rita "Elasti-Woman" Farr, an actress who has her career (somehow) scuttled by her new superpowers. [THR]
---
Supergirl
The season four premiere is titled "The American Alien," according to Spoiler TV.
---
Arrow
Episode 2 of the next season is titled "The Longbow Hunters." [Spoiler TV]
---
Gotham
Spoiler TV also has the titles to the first four episodes of Gotham's final season.
Gotham - Episode 5.01 - Year Zero

Gotham - Episode 5.02 - Trespassers

Gotham - Episode 5.03 - Penguin, Our Hero

Gotham - Episode 5.04 - Ruin
---
Wynonna Earp
We also have synopses for the third and fourth episodes of Wynonna Earp's third season.
Episode 3.03 - Colder Weather

The team must come to terms with the consequences of their actions; someone claiming to be from Black Badge Division arrives in Purgatory.


Episode 3.04 - No Cure for Crazy


The forest reveals its secrets and a clue to Nicole's past; Wynonna pays an unexpected visit to her mother.

---
Agent Carter
Showrunner Jose Molina doubts Netflix has any interest in reviving the series:
It would be lovely to think that Netflix (home to so many awesome Marvel shows) would pick it up, but their shows all share a common universe and timeline that Carter doesn't share. Creatively, these shows tend to be very dark, and Agent Carter just doesn't have dark and brooding in its DNA.
---
Stranger Things
Speaking with Deadline, David Harbour revealed season three will see Jim Hopper return to his violent detective persona:
We had a little softer season with Jim in Season 2, where he was really working off these fatherly instincts and understanding a responsibility that was larger than himself, and I think one of the things that we missed from Season 1 was this guy who goes into government facilities and punches people in the face. He's not a doofus, but he's a bit of a Columbo character.
---
Project Blue Book
Entertainment Weekly also has out first look at History's new series on the US Air Force's UFO investigation program which ran from 1952 to 1969.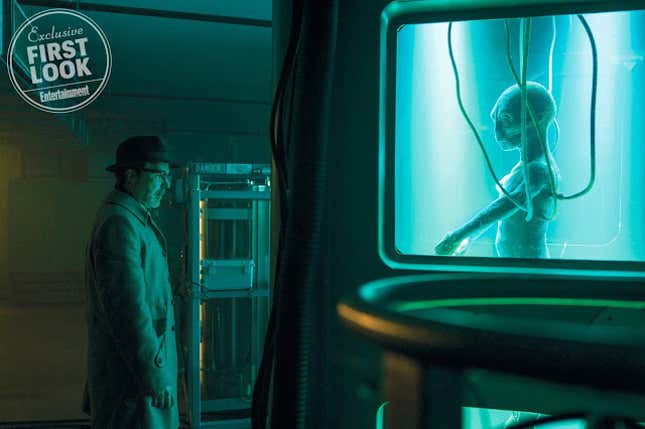 ---
The Purge
The Purge appears to have inspired, a wacky Death Race-style game show in a new image from the TV show, also from Entertainment Weekly.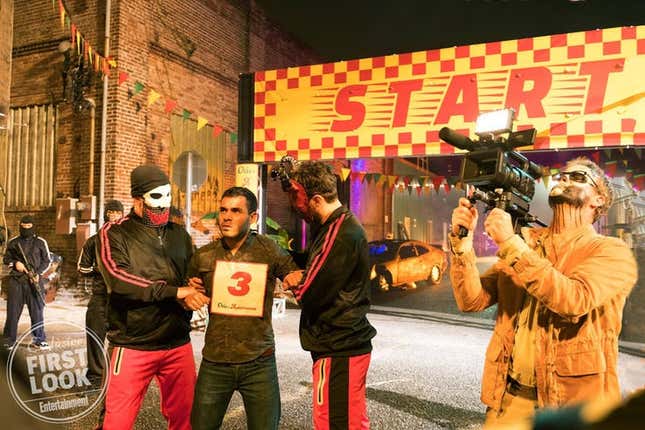 ---
Cloak & Dagger
In a recent interview with Syfy Wire, showrunner Joe Pokaski teased an upcoming appearance from the undying Mr. Jip, a former Sorcerer Supreme:
You didn't see him in episode six? It's possible you did. I'm not spoiling anything, I'm not committing to anything. But you should go back and look carefully at the scene where Tyrone goes into Kev's dream and [sees] that kid with the backpack's fears. I have a feeling if we're lucky enough to have a season two, a lot your favorites will be making appearances.
Meanwhile, KSiteTV has images from this week's episode, "Ghost Stories." More at the link.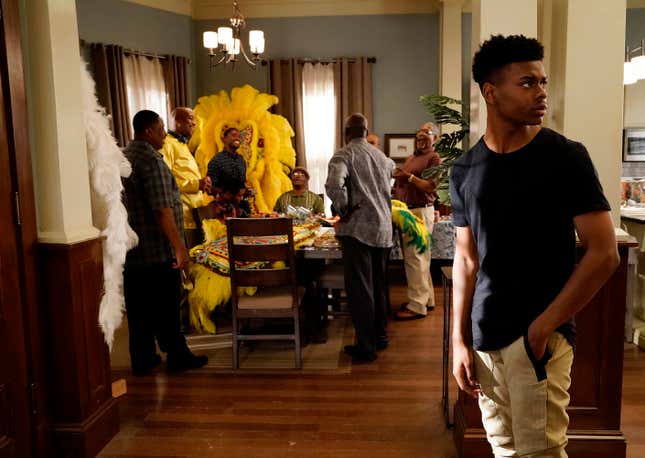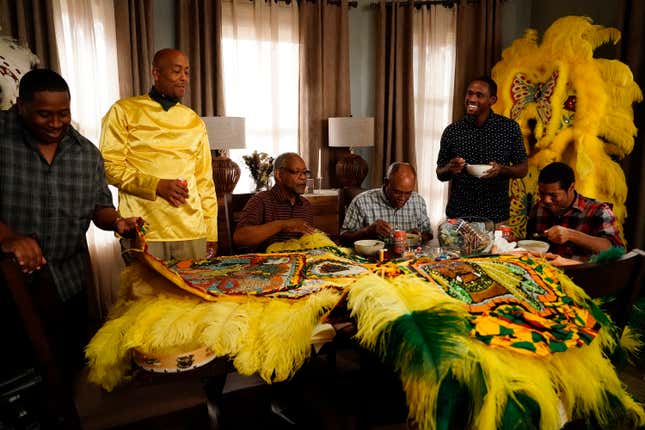 ---
The Chilling Adventures of Sabrina
Here's a very short and suitably creepy teaser for the series.
---
Castle Rock
Three upsetting new teasers reveal Castle Rock has always been a horrible place to live.
---
Preacher
Finally, Herr Starr meets with The Allfather in a clip from next week's episode, "The Coffin."
---
Banner art by Jim Cooke.