It looks mighty impressive in renders, and is astoundingly huge, but not everyone is dazzled by Apple's planned HQ 2.0: the LA Times' architecture critic, Christopher Hawthorne, thinks it's a huge mistake: isolated, alienating, drab, a "retrograde cocoon." Oh shit!
Hawthorne's got some lofty, though still highly derogatory things to say about the gleaming disc:
"In many ways it is a doggedly old-fashioned proposal, recalling the 1943 Pentagon building as well as much of the suburban corporate architecture of the 1960s and '70s. And though Apple has touted the new campus as green, its sprawling form and dependence on the car make a different argument."
The Pentagon! Ouch. Not exactly an American architectural gem, what with its "come too close and you might get shot" exterior, and prison-like form.
Cupertino's "enthusiasm for the new Apple headquarters can be read as an endorsement of a car-dependent approach to city and regional planning that might have made sense in the 1970s but will seem irresponsible or worse by 2050."
The new Apple campus, which the company describes as "a serene and secure environment" for its employees, keeps itself aloof from the world around it to a degree that is unusual even in a part of California dominated by office parks. The proposed building is essentially one very long hallway connecting endlessly with itself.
G/O Media may get a commission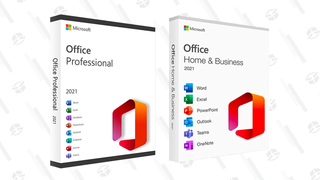 89% off
Microsoft Office Professional 2021 Lifetime License
One very long hallway connecting endlessly with itself actually captures Apple's corporate ethos rather well. [LA Times via Apple Insider]