The 1984 film The Last Starfighter is often cited as the rare cult classic fans would like to see remade. The reason? Thirty-years ago the film's ideas were so ahead of their time, it's taken until now for technology to catch up. Now, technology itself may play a role in the film's resurgence.
Variety reports the film's original writer, Jonathan Betuel, is currently developing a Starfighter themed show called The Starfighter Chronicles with a company called Surreal.tv. The show wouldn't be a direct sequel or remake of the film, however. Instead it's described as "a serialized story about alien law enforcement" with a focus on "instilling a moral code."
The whole project is still in the very early stages but, aside from the plot, the hook of the show is it would have scenes fans could experience in virtual reality. Scenes inside a cockpit or flying through space would be enhanced with some kind of technology like Google Cardboard, though that company is not on board.
Surreal.tv co-founders Rick Rey and Andy Vick admitted to Variety they aren't sure if the VR angle will help the project find a home on a traditional TV channel and that a streaming service is a possibility. Either way, they're hoping a show like this could launch virtual reality entertainment in a way so many other projects have failed to do.
As for the Starfighter brand, Betuel has long retained the remake rights, which have been sought after by everyone from Seth Rogen to Steven Spielberg. He said he chose to deal with Rey and Vick because they understand not only storytelling but technology, two things very important to Starfighter.
G/O Media may get a commission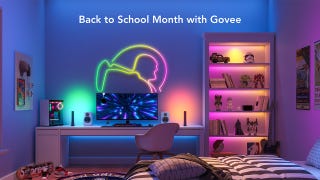 Back to School
Back to School Month with Govee Sale
[Variety]