CGI appears even in the most unlikely of places. The latest is in hiding a cover-up on star Dakota Johnson with digital pubic hair. There are huge space battles and fully digital characters and this.
The news comes from a story in the New York Times about the trials and tribulations of filming sex scenes. Seamus McGarvey, Fifty Shades of Grey's cinematographer, explained what occurred:
We were protecting the actors. Jamie [Dornan] had a cover over his penis. Dakota [Johnson] had kind of a patch that went over her pubic area, and right round her whole body. We were in the curious situation, in postproduction, of adding [pubic hair]. I wouldn't say it was one of the highlights of my career, but it certainly was one of the most surreal scenarios. We did have a butt double for Dakota. I had the pleasure of casting a nontattooed bottom — Surreal Scenario No. 2.
Also digitally enhanced were some of the whipping scenes, which makes more sense than trusting the actors to not hurt each other. Different technology was also employed to make the actors more comfortable:
In the Red Room, when things heat up a little bit, that was less choreographed. Sometimes we would use a remotely operated camerahead so the actors wouldn't have an operator leaning in.
G/O Media may get a commission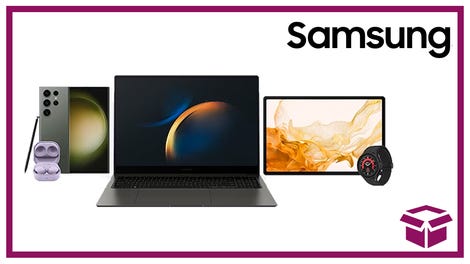 24 hour deals
Discover Samsung - Daily Deal
The same people who did this VFX? Also have worked on the more traditionally thought-of CGI work in Guardians of the Galaxy, Godzilla, and Maleficent.
Having actually seen the movie, I'm actually pretty surprised that CGI was needed for this. In order to keep the movie at an R, there are a lot of strategic cuts to keep audiences from seeing too much. I guess there's only so much that can be done with creative angles, well-place pieces of clothing or furniture, and cuts can accomplish. Or that it's always easier to use CGI than to rely on in-camera tricks.
[via Cinema Blend]
---
Contact the author at katharine@io9.com.