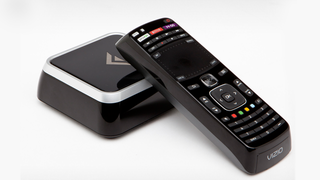 A recent study by Nielsen showed that almost 70% of tablet and smartphone users engage with their devices while watching TV. That means that the majority of hate-tweets you're reading about Greenpoint-dwelling, funny, wunder-gurls are being posted as the show airs.
And while that's all well and good — and very developed compared to ten years ago, when you had to write in your fuzzy pink diary about how tingly certain stars made you feel — there is about to be an even better way to communicate your special feelings. The VIZIO Co-Star™ Stream Player merges live TV and the Internet into one experience, turning any HDTV into the ultimate smart TV — and it's now available for pre-order.
Using Google TV™, Co-Star upgrades your high-def television with apps, full-screen Web browsing, and access to tons of streamable content — while the universal touchpad remote allows for easy navigation and quick searches of all your favorite sites and shows. And thanks to picture-in-picture, you can keep an eye on live TV as you browse in Google Chrome (with Adobe Flash compatibility).
In addition to Web streaming, Co-Star is the first stream player to have OnLive — which gives you the ability to play console-style games without a separate, dedicated system — built directly in. It also has Wi-Fi and supports 1080p Full HD and 3D entertainment, making it an incredibly easy, fast, and engaging addition to your TV-viewing experience.
The VIZIO Co-Star™ Stream Player is now available for only $99. Head here for more info, and turn your HDTV into the ultimate smart TV.