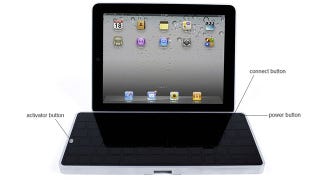 One look at the Levitatr and you would think the sleek accessory was an add-on display or a large touchpad for your tablet. But hidden within the glossy, black design is a full-sized, retractable keyboard with backlit keys.
Besides its elevating keys, the bluetooth accessory has an anodized aluminum chassis and includes a kickstand for holding your tablet. It's a slightly beefy 12.5mm thick, but that extra bulk is needed to provide room for the movable keys.
The keyboard is still in the prototype stage, but you can reserve a unit via Kickstarter. Pricing starts at $79, but you can give as little as $1 just to take part in the final design of the device. [Levitatr via Technabob]
---
You can keep up with Kelly Hodgkins, the author of this post, on Twitter, Google + or Facebook.