Step up your messaging, have fun with physics, watch some weird TV, find your car, call your friends, later incriminate said friends—it's all in a day's month's work for Windows Mobile.
Searchme: Searchme apps have been available for other mobile platforms—iPhone, Symbian and Android—for quite a while now, only now coming to Windows Mobile in free beta form. Searchme, for the vast majority of you who never stray from the comforting, safe embrace of Google, answers queries in screenshots of websites and various media, some of which can be played back in the results. Though the panel-based interface works best on the iPhone, the Windows Mobile version is far from ugly, and you may find it quicker for certain types of searches. Free.

TheChanner: A moderately useful mobile TV app saved by its price, TheChanner doesn't have a particularly compelling selection of channels—they're pipe through to your phone from a variety of preexisting free sources, though there aren't many names that you'll recognize. There are plenty to choose from, though, and a lot of them are fairly niche. The app itself is a bit glitchy, and as you'd expect, it's a huge battery hog. Free.

G/O Media may get a commission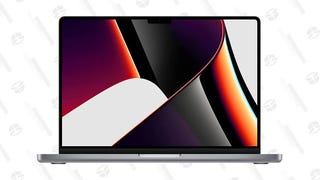 Save $300
2021 14" 1TB MacBook Pro
GPS Spot: I kinda love the concept of this app: press a button, and it'll save your location according to your device's GPS. When you're trying to get back to that location at a later date, it'll tell you how to get there with a compass and distance readout. Basically, it's for finding your car in a huge parking lot. It's four dollars, which you can't really escape paying—the trial version is fairly useless.

Skype 3.0: We covered this before, but it's worth mentioning again: there's a new Skype client for WinMo. You can text of SkypeOut credit, though unfortunately people can't text you back. The new file-sending/recieving feature, though, is what makes this release awesome.

AIM 2.0: The official AIM app for Windows Mobile has hit 2.0, landing an interface lift and a new "lifestream" feature. It's a separate tab from your main buddy list, which consolidates updates from tons of social media services (Twitter updates, Flickr friends, Facebook statuses) and presents them in a single stream, as per its name. I'm partial to multi-protocol apps like Palringo, Fring, and Nimbuzz (more on that below), although this official app isn't half bad if AIM's your messaging service of choice.

Numpty Physics : As a time-suck, it's hard to beat Crayon Physics. Sadly, it never made its way to Windows Mobile, leaving physics-minded, Microsoft-using puzzle gamers with no recourse. Well, open-source Crayon Physics clone Numpty Physics will do just fine, thanks. This may be obvious, but you'll need a touchscreen phone to play. Free.

Nimbuzz 2.0: This multi-protocol instant messaging app has been updated, and is largely unchanged: the interface is tweaked a bit, and you can now report your location to other Nimbuzz users. So why should you care about this then? One word: SkypeOut. You can now make calls using SkypeOut credit, which, assuming your carrier isn't too stringent about such things, will turn your phone into an ultra-cheap international calling machine. Of course you could just use the Skype app, but as is the point of these types of all-in-one apps, Nimbuzz could save you a few screen taps/button presses, and a little time.

Auto Call Recorder: Super-simple (and free!) call recording. I've had trouble finding a decent solution for this in the past, since apps are generally either paid, crippled trialware or not widely compatible, so it's a relief to find one that works. Indispensable for interviews, conference calls and the like. Note: this app is to be used for good, not evil. Thanks.


This list is in no way definitive. If you've spotted a great app that hit the store this month, give us a heads up or let us know in the comments. Have a good rest of your weekend, everybody!