How do you convince consumers that your product has real staying power? Show people using it in the future. These ads are filled with robots, flying cars, and distant planets—and occasionally uncanny views of the future.
A Royal Typewriter ad from the 1930s
(via Vintage Ad Browser)
"A Man's Home is His Castle," National Hotel Management Corporation, illustration by Arthur Radebaugh, c. 1938
G/O Media may get a commission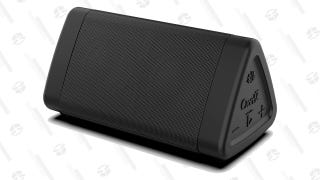 Save 31%
Oontz Angle 3 Portable Bluetooth Speaker
(via Vintage-Advertising)
New paint ingredient solves difficult problem for world of tomorrow, 1939
(via westread)
Seagram's whisky ads from LIFE Magazine, early 1940s
(via James Vaughan and LIFE/Google Books)
"Visions of the Future" ads for Bohn, from the 1940s
(via Retronaut)
Retrofuturistic ads for the National Motor Bearing Corporation in Fortune Magazine, early 1950s
(via Tommy Topps)
Galaxy Light Whiskey, the Pan Galactic Gargle Baster of the '60s
(via Dramming)
RCA transistors ad with illustration by A. C. Radebaugh, 1964
(via Astrobalwaves)
Tomorrow's Lestoil, 1968
(via Soup 9 From Outer Space)
Benson & Hedges 100's ad from the 1970s
(via Vintage Ad Browser)
Tom Baker Prime Computer ads from 1980
Here you can find more hilarious computer ads from the Golden Age of PCs.
Bonus: Hooray for Moloko Plus! from a 1951 Starlac Nonfat Milk ad