Science fiction and fantasy never stop moving forward. Because the future is endless, and so is the power of the unknown. So another month brings another slew of incredible books about spaceships, assassins, robots and wizards. Here are 20 books you absolutely cannot miss in November.
Top image: U.S. cover of Proxima by Stephen Baxter
Ultima by Stephen Baxter (Gollancz)
The sequel to Baxter's novel Proxima, which is also finally coming out in a U.S. edition. Read our review of Proxima here, in which we call it "Baxter's best novel yet" and talk about how it's a realistic future, in which the U.S. and China are fighting over control of the solar system. One of the main characters is Earthshine, an artificial intelligence who began as a human uploaded mind. In the sequel, we discover what happens after humans discover alien artifacts that allow us to cross the universe with ease.
G/O Media may get a commission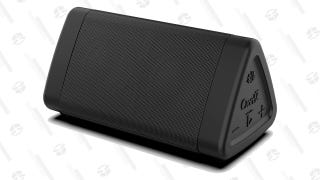 Save 31%
Oontz Angle 3 Portable Bluetooth Speaker
Superheroes Anonymous by Lexie Dunne (Harper Voyager Impulse)
There's been sort of a quiet renaissance of superhero novels lately, and this sounds like another inventive spin on the genre. Editorial assistant Gail Godwin has gotten captured by bad guys and rescued by the superhero Blaze a few times, and everybody's started calling her Hostage Girl. Not the best nickname ever. But then the inevitable happens: Gail gets captured by a mad scientist and Blaze isn't there to save her — so she gets turned into something more than human, and finds herself entering the world of superheroes herself. You can read an excerpt here.
The Heart Does Not Grow Back: A Novel by Fred Venturini (Picador)
And speaking of superhero novels... in this book, Dale Sampson is a high school loser until an accident makes him realize he can regrow his organs and limbs. Now he has to try and use his un-asked-for superpower to save the girl he used to love from her abusive husband and all the dangers of Hollywood. Read an excerpt here and a review here.
The Dark Defiles (GollanczF.) by Richard Morgan (Gollancz)
It's here at last — the final book in Morgan's epic fantasy trilogy featuring a unique hero, Ringil, in a brilliantly imagined world. This time around: war with the dragons! The truth about the Dwenda! The artifacts of a long-vanished race. If you haven't already read the first two books in this fantastic series, there's still time to catch up. Kirkus calls this "a finale that displays all the purposefully hard edges and grim magnificence that made the first two volumes stand out." Read an excerpt here.
Young Woman in a Garden: Stories by Delia Sherman (Small Beer Press)
Sherman won the Mythopeic and Andre Norton awards, and now at last here's her first short story collection. These are stories of artists and sailors, and the small moments in their lives — along with the ghosts, fairies and other magical creatures that lurk around them. Read a story by Sherman here.
The Three-Body Problem by Cixin Liu (Tor)
One of the most successful and acclaimed science fiction novels in Chinese is finally out in English, thanks to a translation by Ken Liu. This is the first book of a trilogy, and it takes place during China's Cultural Revolution, when a secret government project sends humans into space to make contact with aliens. Unfortunately, the aliens we find are not friendly, and they set their sights on Earth. Read excerpts here, here and here. (Full disclosure: Tor is publishing my novel in 2016.)
Dreamer's Pool by Juliet Marillier (Roc)
The healer Blackthorn is sworn to help anybody who comes to visit her in her exile, for seven years, after she's been released from a wrongful imprisonment. But when a prince comes to visit her asking for help getting out of a betrothal to a cruel and vicious woman, Blackthorn may have cause to regret her vow. Read an excerpt here, and read a starred review in Publishers Weekly here.
The Best of Electric Velocipede by John Klima (Editor) (Fairwood Press)
This Hugo Award-winning magazine finally closed up shop, to our eternal sorrow. But at least you can read a ton of its best stories, all in one place. Including work by Alan DeNiro, Chris Roberson, Aliette de Bodard, Richard Bowes, E. Lily Yu, Rachel Swirsky, Hal Duncan, and a ton of other great writers.
The Door in the Mountain by Caitlin Sweet (ChiZine Publications)
Another magazine that closed up shop, at least ChiZine is continuing to put out fascinating, beguiling books. This is basically a retelling of Greek mythology, including Theseus and the Minotaur, and Icarus' fatal flight. Read a review here.
Revival: A Novel by Stephen King (Scribner)
King's retirement from writing novels continues apace — this is his fourth novel in two years. And this sounds like one of his more ambitious efforts, a book spanning decades about the unholy bond between two men, a disgraced Christian minister and a mad scientist. Publishers Weekly's starred review calls it "spellbinding" and describes it as a story of scientific curiosity gone wild. Read an excerpt here.
Empire of Dust: A Psi-Tech Novel by Jacey Bedford (DAW)
Who doesn't love a far-future novel of evil megacorps and their telepathic agents? Nobody, that's who. In this one, there's a fun twist: the "Psi-Tech" implants drive you insane unless you stay connected to the company that put them in you. Until one agent, Cara Carlinni, figures out how to go rogue without losing her mind. Read a review here, which describes it as "nostalgic space opera."
Stranger by Sherwood Smith & Rachel Manija Brown (Viking Juvenile)
This post-apocalyptic young-adult novel became the center of a huge controversy when everyone learned that an agent wanted the authors to remove an LGBT character, and they refused. The actual book is apparently a fun look at a world where tons of people have strange superpowers, and there are also crystal trees and telekinetic squirrels. It's gotten a rave review from Kirkus, which called it a dystopia with a generous spirit.
Willful Child by Steven Erikson (Tor Books)
Do we really need another zany Star Trek spoof? Maybe, if it's a book about the dark evil version of the Federation — like Blake's 7's version, or the "Mirror Mirror" version. Plus this comes from the Malazan Book of the Fallen author, so it's got an excellent pedigree. Read an excerpt here.
Fear City (Repairman Jack) by F. Paul Wilson (Tor Books)
The concluding book of the prequel trilogy about Wilson's supernatural troubleshooter. This one takes place in 1993, a time of strange conspiracies and near-disasters. Jack faces off against a secret society as he goes through the final stages of becoming Repairman Jack.
A Thousand Pieces of You (Firebird) by Claudia Gray (HarperTeen)
There's nothing better than a good universe-jumping saga, and this sounds like a doozy. Marguerite's parents invent a machine that allows travel between multiple universes — and then their assistant Paul murders them and escapes into the multiverse. So Marguerite must chase her parents' killer from world to world, and every time she jumps into another version of herself. Read an excerpt here. Publishers Weekly calls it fascinating in spite of a few predictable elements.
Homefront by Scott James Magner
Another debut set in the far future — this one follows Jantine, a genetically modified super-soldier who's given the task of setting up a secret colony on a devastated future Earth. But when she arrives on Earth, there's already a civil war going on, and she has to pick her allies carefully or die. Magner has a background in writing for table-top role-playing games, so expect a lot of cool action and clever plotting.
The House of War and Witness by Linda Carey & Louise Carey & Mike Carey (ChiZine Publications)
This collaboration among three great authors takes place in 1740, when a company of soldiers finds themselves surrounded by ghosts. Who have stories to tell. Read an excerpt here. Strange Horizons praises this "playful and dark" novel.
Cold Hillside by Nancy Baker (ChiZine Publications)
And finally, one more novel from ChiZine, who deserve all your love and support. This book sounds amazing — there's a fallen empire, which made a deal with the faeries to get a place of refuge and safety for its people. Every year, someone has to travel to the fairie court to deliver the tribute in return for the fairies' protection — but one year, they fail to deliver the tribute. And someone has to go live with the faeries and serve them, learning to navigate the intricacies of the faerie court. Years later, another person is unfortunate enough to discover what happened to that hostage.
Lowball: A Wild Cards Novel, ed. George R.R. Martin and Melinda Snodgrass (Tor)
Yes, it's the long-awaited new Wild Cards book! This time, people are going missing in Jokertown, and it's up to a rag-tag crew of Jokers to find out what's going on. This includes writing from Carrie Vaughn, Ian Tregillis, David Anthony Durham, Melinda M. Snodgrass, Mary Anne Mohanraj, David D. Levine, Michael Cassutt, and Walter John Williams.
Star Trek: The Original Series: Foul Deeds Will Rise by Greg Cox (Pocket Books/Star Trek)
Remember Lenore, the daughter of Kodos the Executioner? She seemed like such a sweet girl. Now it's twenty years later, and she's "rehabilitated" after trying to kill Kirk and Riley. And she shows up in Kirk's life, just in time to interfere with some delicate peace talks. Has she really gotten her marbles together, or is she going to be trouble again? And will Riley finally get to take Kathleen home again?
Sources: SF Signal, Locus, Amazon, Publisher Catalogs