Android is known for easy to customize and personalize. The best part is, if you're prepared to dig deeper, you'll find a goldmine of hidden features and settings that can improve your mobile experience. Here are four of our favorites you can uncover in the most recent versions of the OS.
---
1) Boost gaming performance
One of Android's hidden menus is Developer options. Whether or not you write code for a living, you can show it by going into Settings, selecting About phone then tapping Build number seven times in a row. Congratulations, you're now a developer, with the new menu added near the bottom of the Settings screen.
While you should be wary of playing around with these configuration options if you don't know what you're doing, some of them are pretty useful for non-developers.
G/O Media may get a commission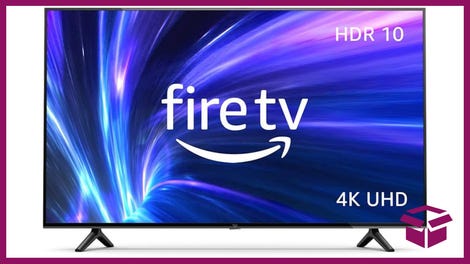 42% Off
Amazon Fire TV 50" 4K Smart TV
Head to the new menu and enable Force 4x MSAA (that's multi-sample anti-aliasing, if you were wondering). At the cost of some of your battery life, it tells Android to render games at as high a quality as it can, so it's best used on top-end handsets with a lot of battery left.
Turning on the Force GPU rendering option on may give you smoother, snappier performance in some games, but its effects can vary widely from app to app and from device to device, so use it with caution.
---
2) See your notifications after clearing them
One of the most useful hidden features in Android can only be accessed via a widget on the home screen. The option will let you see old notifications you've dismissed in haste.
Long-press on a blank part of the home screen, choose Widgets, and then find the one called Settings shortcut (under the Settings heading). You then get to choose which setting to link to, so pick Notification log.
That's it: tap the widget icon in future to see your past notifications.
The amount of info you get in each one varies from app to app (you don't get a full record of each notification), but you can at least see which apps have displayed alerts recently, in case you cleared them without taking a proper look.
---
3) Clean up the taskbar
With Android 6.0 Marshmallow, Google introduced a secret System UI tuner menu in the stock OS that may or may not have made it into the custom user interface installed on your phone by the manufacturer.
To enable it (or see if it's available), swipe down with two fingers from the top of the screen to show Quick Settings, then press and hold on the settings gear icon. After a few seconds you should be met with a message that System UI tuner has been enabled, and it's then on the front page of Settings.
Tap Status bar on the System UI menu and you can actually change which icons appear at the top of the display. If you don't like having alarm clock or Bluetooth symbols showing, you can get rid of them, or you can add an icon that shows the screen's auto-rotate status.
It's even possible to hide the time from view, or have it show hours, minutes and seconds.
---
4) Enable night mode
For two successive OS releases, Google has teased a night mode for Android in the beta code, only to pull it from the final release. In Android 7.0 Nougat night mode is still there, but a little bit of manual hacking is required to bring it out.
First you need to enable the System UI menu (see above) by tapping and holding the gear icon at the top of the Quick Settings pane, then you need to install Night Mode Enabler. It's not an official Google app, but it digs out access to the official night mode code that Google has left languishing in Nougat.
The app is just a single button. Press it to see night mode in Settings and Quick Settings.
Of course, Google must've had its reasons for cutting out Night Mode—you may get the odd performance problem or find the feature breaks with future updates. But if you really want it right now, this is the way to do it.