He published witty books and short stories in top scifi magazines. But he also lived under several aliases, kidnapped and tortured a neighbor, and finally burned himself to death in his tiny Brooklyn apartment. Who was F. Gwynplaine MacIntyre?
There's a fantastic article in the New York Times about the life of the acerbic writer, known in fan forums as "Froggy" and to SF readers as the author of early steampunk tale The Woman Between The Worlds and many stories for magazines like Analog, Interzone, Weird Tales, and Asimov's. Fond of neologisms, MacIntyre was cited by William Safire in his "About Language" column; MacIntyre was also apparently a ghostwriter for parts of Jerzy Kosinski's novel Pinball. He also did works-for-hire, writing a Tom Swift novel under a pseudonym.
But for MacIntyre, pseudonyms weren't just noms de plume - they were a way of life. He was fanatical about privacy, and used several different names for himself, with different identities on his tax forms, his ID, and on his various writing projects. He told stories about his history that sounded like 19th century fairy tales, claiming that he was born in Scotland but sent to an orphanage in Australia to do labor. But in fact there were programs to send impoverished kids from the UK to Australia during MacIntyre's childhood. He despised his family, and neighbors claimed they could hear him screaming at his mother late at night, accusing her of ruining his life. He was also a hoarder, filling his apartment with layers of books, magazines, manuscripts, pictures, and rejection letters. And finally, in late June of this year, he used his hoard as kindling in the fire that would take his own life.
G/O Media may get a commission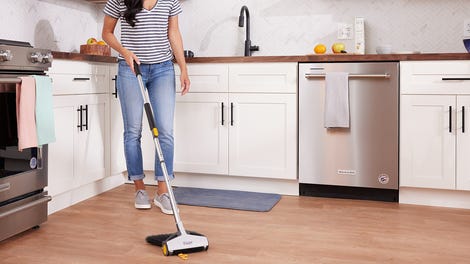 BOGO 50% Off
Flippr - BOGO 50% Off
The Times' Corey Kilgannon writes:
Writer friends knew him as a worldly bon vivant with an acerbic wit. He corresponded with many literary types and would share photographs of himself posing with them at Oxford and other impressive settings during European adventures.

"Froggy always presented himself as like an English clubman, an eccentric who might be a time traveler from the 19th century," Mr. Schweitzer, his friend and agent, said. "He was always meeting someone famous in some remote part of the world - Mother Teresa, Idi Amin - and you couldn't confirm or deny any of it."
His work was barbed but often silly, and Isaac Asimov was said to be fond of his collection of verse called MacIntyre's Improbable Bestiary. But MacIntyre had been troubled for a long time. Ten years ago, he was brought up on charges for kidnapping and torturing a neighbor. Kilgannon writes:
The most sordid story neighbors told about Mr. MacIntyre involved Helene Lapointe, who lived across the hall and whom Mr. MacIntyre would pay to remove bags of garbage. On Sept. 10, 2000, according to Ms. Lapointe, Mr. MacIntyre grabbed her, duct-taped her to a chair and began torturing her and threatening her life.

"He stripped me and buzz-shaved my head and then spray-painted me black - my whole body," said Ms. Lapointe, who broke free and ran to a friend's house.

Mr. MacIntyre was arrested and wound up pleading guilty to third-degree misdemeanor assault, Brooklyn prosecutors said. Ms. Lapointe, now 55, moved out immediately; she returned to the building after hearing about the deadly fire. Staring into the charred mess, she said, weeping, "It's what he deserves, for what he did to me."
In MacIntyre's novel, The Woman Between The Worlds, an invisible woman asks the protagonist to tattoo her entire body so she can become visible. Lapointe's recollection of the spray-painting seems a horrific echo of something the author first dreamed up in fiction.
Though MacIntyre tried to project a jovial, man-of-the-world personality to his friends in fandom, there was always something dark about this fictionalized self. He often claimed to be deformed, and said that he had to wear gloves because of some sort of problem with his hands. Sometimes he said his fingers were webbed; other times he simply alluded to a "hideous skin condition." He also complained that he suffered from synaesthesia. Online, he claimed to have been married more than once, with children. But when his body was found this summer, police could locate no relatives - children or otherwise. In fact, nobody is even sure what his birth name might have been.
There is one thing that all his friends agree on: His death was as strange as his life, and he orchestrated his final days as if he were writing one of his dark, angry short stories.
You can read more about MacIntyre in the New York Times story about his death, at the Internet Speculative Fiction Database, or read more about his work at the Encyclopedia of Science Fiction.
Photos by Emily Berl via NY Times.