Christopher Nolan's Inception is filming in Paris, and there are set pics, plus a super-intriguing description. Plus Liev Schreiber mulls over Wolverine 2, and ScarJo talks The Avengers. Also: Warehouse 13/Eureka clips! And Lost, Fringe, FlashForward and Star Wars spoilers.

Inception:
We brought you the first set pics from Christopher Nolan's new movie, Inception, the other day. Here's another set, showing Leonardo DiCaprio and Ellen Page filming a scene on a bridge in Paris. More pics at the link. [JustJared]
G/O Media may get a commission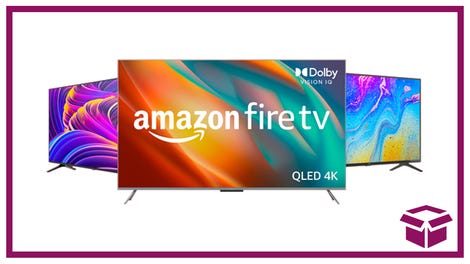 Ooh. stunning.
New Amazon Fire TVs
And People Magazine has a description of the scene they were filming:
Monday's scene on the closed set utilized two giant mirrors, each the size of a storefront and slowly rotating and reflecting each other. The leading man – dressed in a grey-green Armani jacket, black trousers and looking very tanned and blond – stood between them, creating a funhouse-mirror effect of a thousand reflections before the mirrors pulled away to reveal him walking the bridge with Ellen Page amid a sea of extras.

An argument develops between them and Page turns violent, shoving him, knocking him down. What followed were shots of the extras, standing as still as statues, as though they were frozen in time.
[People]
And someone got hold of a callsheet, which includes the names of the film's main characters, except for DiCaprio's. Ellen Page plays Ariadne, Joseph Gordon Levitt plays Arthur, Tom Hardy plays Eames, Ken Watanabe plays Saito, Dileep Rao is Yusef, Cillian Murphy is Fischer and Tom Berenger is Browning. And there's a character named COBB,
who has no actor listed. Chances are, he's either a code name for DiCaprio, or he's a computer-generated character. (Oh, and apparently Oliver's Arrow is a fake working title.) [CloneWeb via NolanFans via Slashfilm]
Wolverine 2:
Liev Schreiber says he's open to returning as Sabretooth in this sequel, and he'd love to see how his version of the character became the more animalistic rendition Tyler Mane gave us in X-Men. [MTV]
Iron Man 2:
Scarlett Johansson hints her character, the Black Widow, could be back in the Avengers movie — and could possibly have her own spin-off film as well, if the fans take to her skintight catsuit. Supposedly ScarJo is signed for several movies. [IOL via ComicBookMovie via Comic Book Resources]
Legion:
In a fairly hilarious interview, Paul Bettany talks about the tattoos he wears as the angel Michael:
They actually go all over my body, including my – I don't want to talk about it. The application of those tattoos is a private matter! They developed the sort of typeset. In actual fact [the language] was developed by a man called John Dee, and you'll have to check this but he was a Necromancer and he was apparently in touch with angels and they gave him their language. This actually all says stuff, but you'll have to forgive me because I have about 60 tattoos or more, I think. So I don't know what each of them say, but they say stuff. This one I know says "If you're freeze-framing this film, you're really weird."
And he clarifies that, yes, Michael does lose all his supernatural powers when he clips his own wings, and he also sheds some kind of heavenly obedience collar. And there's a totally awesome fight scene with Gabriel. [ShockTillYouDrop]
Shorts:
Some more details about Robert Rodriguez' latest kids' movie. Apparently James Spader's character, Carbon Black, has two kids: Helvetica Black is a tiny terror, and Cole Black is the leader of a gang of bullies who target our hero, Toe Thompson, mostly by shoving him in trash cans. They live in Black Falls, a company town where everyone works for Carbon Black's firm, and they're all obsessed with upgrading the mysterious all-purpose product that Black Box Industries makes. Until one day, the rainbow wish-granting rock descends from space. [Yahoo! News]
The mayors of Shreveport and Bossier City, LA will hold a press conference today to discuss the location filming of this alien invasion film. For now, though, Shreveport director of film, media and entertainment Arlena Acree says the movie includes explosions, battleground scenes, car chases, crashes, smoke, helicopters, and street closures. "This is the first project where we have been attacked by aliens," she says of Shreveport. [Shreveport Times]
Twilight: Eclipse:
The third movie has started filming, and a press release lists the entire supporting cast. And no, the part about there being an actor named BooBoo isn't a typo:
Bryce Dallas Howard as Victoria, Xavier Samuel as Riley, Catalina Sandino Moreno as Maria, Jack Huston as Royce King, Julia Jones as Leah, BooBoo Stewart as Seth, and Jodelle Ferland as Bree. Also continuing in the saga as The Cullen Family are Ashley Greene as Alice, Peter Facinelli as Carlisle, Elizabeth Reaser as Esme, Kellan Lutz as Emmett, Nikki Reed as Rosalie, and Jackson Rathbone as Jasper. Billy Burke also returns as Charlie Swan.
Lost:
John Hawkes (Deadwood) is joining the cast as Lennon, the scruffy, edge spokesperson and translator for a foreign corporation who's more powerful than you'd guess from his position. (We posted the casting call for this role the other day.) [THR]
Warehouse 13:
Bondage and games of possum, in this clip from next Tuesday's episode, "Duped":

Supernatural:
Creator Eric Kripke says we'll never learn how Ruby's demon knife got its powers, because a little mystery is good. But we will see the magical kill-anything Colt pistol again — it pops up early in the season, and then plays a major part in episode ten. The Colt is the Winchester boys' best chance at shooting Lucifer in the face. And there's always a possibility Jeffrey Dean Morgan might pop up again at some point. [EW]
Fringe:
We already showed you this season two poster, but now here it is in ridiculously high resolution. Click to enlarge. [Fringe Television]

Oh, and speaking of clues, a whole new set of cast pics for season two includes a pic of Peter where his shadow looks different than everyone else's. [Fringe Television]

FlashForward:
This show's future-glimpsing premise is summed up, in one of the ugliest posters I've ever seen. Gah! [TVOvermind via SpoilerTV]

Eureka:
Here's a new clip from tomorrow night's episode, "Shower The People," featuring guest star Billy Campbell:

Smallville:
A pretty cool twist, involving Chloe, will take place within the first ten episodes of the new season. [EW]
Star Wars: Clone Wars:
Things get a bit darker in the second season, says Dave Filoni:
We have the rise of the bounty hunters entering the war - bringing in a lot of chaos and a whole new set of problems for Anakin and Obi-Wan.
And we'll start to see the seeds of Anakin's turn to the dark side, but we'll also see more of his heroism and the fact that he could have been the saviour of the galaxy. Also, we'll discover more of Obi-Wan's past. [Wired]
Additional reporting by Alexis Brown.